It's every startup founder's dream: Rank #1 in Google search results for the key phrases your customers are typing into search engines. Earning that rank in Los Angeles will mean a huge boost in traffic to your site and more business coming through your door. Web searches drive 300% more web traffic than social media, and ranking organically is far less expensive than paying Google to place an ad for you at the top of the page.
When it's done right, the ROI of an SEO strategy can be staggering. But getting to #1 in Los Angeles is not easy — it takes legwork and professional SEO. Our top Los Angeles search engine optimization company can help you.
Not only do you need to understand your customers in LA, but you also need to know how search engines rank web pages and why. With Google changing their algorithms every couple of years, and with so much secrecy around how the SEO even works, this can sometimes seem impossible.
To make matters worse, there are hundreds of Los Angeles SEO agencies out there who claim to be "local and niche SEO experts," But they're just selling you the same services they sell to all their other clients.
If you're reading this, you may have been burned by an search engine optimization agency in the past. They may have promised your website would show up when people in LA searched online for the services you offer.
But after months of paying for blog posts, web pages, and front-end web development, you're nowhere closer than when you started.
The truth is, outsourcing, like any local-based search strategy, must revolve around the people of Los Angeles and what they're looking for when they search online. There's no way to game the system.
You can't place "Los Angeles" in front of all your blog post titles and hope to beat your competitors. But if you consistently provide searchers with exactly what they're looking for, you can take the #1 spot. Allow our Los Angeles search engine optimization agency to help you improve your Google rankings.
LA Search Engine Optimization
What Makes Los Angeles SEO So Competitive?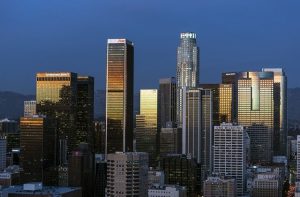 No matter the marketplace, there are hundreds, if not thousands, of businesses vying for the #1 spot on Google search engine result pages (SERPs) for key terms. At the very least, most businesses want to be on the first page, because that's the only place they'll be discovered.
Studies have indicated that 91% of internet searchers never look past the first page of results.

Of those 91%, 42% click on the very first result and 62% click on one of the first three results. Even if you're on the second page, only 9% of people searching for relevant terms will (hopefully) see your listing. That doesn't even mean they'll click.

Los Angeles SEO is so competitive if only because of the size of its economy. According to the Los Angeles County website, if Los Angeles County were a nation, it would be the 19th largest economy in the world. There are hundreds of thousands of businesses located in LA and they all want to leverage their websites for growth.

Granted, not all those businesses are trying to rank for the same keywords. An auto body shop won't drive much business if they're ranking for a keyword like "Los Angeles Tech Startup." But there are now so many Los Angeles small businesses, it takes a lot of work to outsmart the competition.

Local Entrepreneurs and Startups
Of course, one of the key drivers of competition is the Los Angeles startup scene. In 2016, venture capitalists invested an estimated $4.2 billion in LA startups and technology companies, a 38% increase from the previous year. The LA tech sector has even garnered its own nickname: "Silicon Beach" (referring to the startup scene in Santa Monica, Venice, Playa Del Rey, and Culver City).

Alone, the Silicon Beach startup scene is valued at $155 billion. There is also a wide range of creatives and entrepreneurs in the city. They all have websites, and they're all competing over local keywords on Google. Our state of the art Los Angeles SEO agency will help you achieve your desired goals.

Compete using a Reliable Los Angeles SEO Services
And then, LA SEO competition isn't just between companies located in Los Angeles. Plenty of companies outside the area are trying to break into the LA market, too.

The good news is, whether you're located in LA or you're just trying to find new customers and clients in that area, you can still take the #1 spot for the terms you want — you just need authority and your content needs to be relevant. If you're authoritative, if you provide value to searchers, and if your business is relevant to their needs, you can get established in the area.
Search Engines Have Changed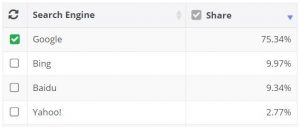 Search engines have evolved dramatically over the past few years. But just to clear things up, when we talk about "search engines" in SEO, we're really talking about one search engine: Google. Google has held on to the most significant share of the search market over the past several years, almost (but not quite) reaching 80% since the beginning of 2017:

(Source: Net Market Share)

When it first launched, Google matched websites based almost entirely on search terms, which users typed into its search field. Now, the search giant incorporates insights like search history, the physical location of the user, and other contextual information to deliver more accurate results.

For example, if you live in LA and do a search for "Dog Groomers Near Me," you'll get a listing of dog groomers in your area without having to type in "Los Angeles." This is where our Los Angeles SEO services come in. In fact, you don't even need to type in "Near Me." Google already knows where you are based on your IP address, so you should get plenty of solid results by typing in "Dog Groomers."


In addition to contextual search, Google is also prioritizing more of its own products. If you type in a query in the form of a question, Google will attempt to answer that question using a snippet (on the left in the image below) or with one of its own sources, such as Google's dictionary.

In 2012, Google also added the Knowledge Graph feature (on the right in the image below). The graph provides more direct answers to the user, as well as images and other relevant links.

These days, if you're looking for a quick answer, you can find it right on your SERP. This has good and bad implications for businesses hoping to tap into the LA search market.

On the good side, Google has more tools than ever to help you get in front of your customers. On the bad side, your customers may not even need to visit your website to get the answers they need. There's also some fierce competition for those snippets and knowledge graphs.

Regardless, earning the #1 ranking is still a worthy goal, and it can be a considerable boost to your business success. As you'll soon learn, you should work with all of Google's features to stand out to your LA customers.

Want to learn how to get quality backlinks, build great content, and master LA search engine optimization? We've got the tools and experience to help you succeed. Sign up for our Los Angeles SEO training course today!

Getting Cozy with Google – LA SEO

If your business is in LA, you need a Google My Business (GMB). Google now provides users with Google My Business information before they even see any web pages in organic search results.

Your GMB listing will have your address, phone number, website URL, hours of operation, and other business information so it's easy for people to locate you quickly, even on a mobile phone. Our Los Angeles SEO takes care of that for you. Here's a list of the most important information:

Correct business name
Correct address
Main phone number
Website address (URL)
Business categories
Hours of operation
Your logo, cover photo, and other important images
A description of your business

You can also provide photos of inside your business or provide a virtual tour if you're a brick and mortar store. How You'll Show Up in Search Results Once you've added all your business information to your GMB page, you'll have a better chance of showing up in search results. Google will be able to process that information and construct an accurate profile of your business. Ideally, you'll show up in every one of Google's search products, from basic web search to image search, maps, and even video search and shopping.

Let's say you're a plumber serving homeowners in LA. If someone searches online for the term "Los Angeles Plumbers," the first thing they'll see at the top of the page are paid advertisements. This is where our Los Angeles SEO comes to play and takes care of all the nitty gritty aspects of your digital marketing campaign.

Not long ago, Google AdWords rebranded as "Google Ads." Ads appear slightly different on the platform now, but they're always evolving. The one thing that hasn't changed is that Google Ads still appear on top.

After all, Google's customers pay good money to be there. If your local digital marketing strategy needs a boost, you can consider Google Ads. Next, your customer will usually see a map and a list of featured plumbers in their area. This information is pulled from the plumbers' GMB pages, which lists addresses, phone numbers, business hours, and more information:

If your business information is square with Google, you have a better chance of showing up here. If your office is located outside LA, you may be tempted to list an LA address on your GMB page to try to get on this list. Don't, unless you have a virtual office or satellite office in the area.

If that's the case, you'll need to set up a separate Google My Business profile for them. But lying to Google about your address can only backfire. Always be truthful about your business information. Posting conflicting information online could confuse your customers, but it could also get you in trouble with Google and damage your Los Angeles SEO.

Finally, your customer will see a list of organic search results:

As you can see, Yelp has made the top two slots on the organic list. This just goes to show how competitive organic search can be. But that doesn't mean you can't make it to the first page or the #1 slot. Even if you're just launching your startup's website, you can beat your biggest competitors with the right strategy.

And even if you aren't physically located in LA, you can back up your marketing strategy with targeted content to get ranked. People in LA are looking for your startup online — they just don't know it yet. Sign up for our Los Angeles SEO courses to give them what they want.
What Does a Los Angeles SEO Strategy Look Like?

Most marketers associate local search engine optimization with businesses that have a physical presence in a region — i.e. brick and mortar stores. Pet stores, local contractors, and restaurants all need to have a strong local LA SEO strategy. But any business that wants to tap into a local market needs to focus on local search engine optimization, including B2B businesses and tech startups.

When we talk about local Los Angeles SEO services, we're talking about a practice called "geotargeting," a geographic marketing tactic in which the content of your website matches the context and location of the website visitor.

In some cases, you can set up your website to respond differently to different geographical locations. For example, if you also serve customers in Mexico, you could embed code into your website to display your content in Spanish if someone accesses it with a Mexican IP address.

Here are a few other things to keep in mind when deploying your Los Angeles SEO strategy.

Keyword Choices – LA SEO Service
You should pay close attention to your keywords when trying to target local searchers. Adding the name of the city or region you're targeting to your keywords is an obvious step.

If you're an LA tech startup providing LA businesses with business automation software, building a web page around the keyword "Los Angeles Business Automation Software" may not be a bad idea.

It won't be a very competitive keyword, so you'll have a decent chance of ranking for it. If you optimize your page correctly, Google may even rank the page in local searches that don't contain a geographic identifier (i.e. "Business Automation Software").

However, you'll need additional content to gain serious traction. You don't just want to add city names to try to trick search engines into ranking your website. You need to add value. That means creating helpful content that your customers in LA will actually want to read.

One of the best ways to do local keyword research is to look at what your competitors are doing. Do they have a series of pages optimized for LA? Make note of what they did and do it better.

Mobile Search Engine Optimization – Los Angeles SEO Services
In 2016, more people accessed the internet through a mobile device than through a desktop computer for the first time in history. Today, nearly 60% of online searches are done through mobile devices.

This should come as no surprise. People are attached to their phones, and for many, their phone is their main avenue for accessing the internet.

Google has also followed suit. Having rolled out its Mobile-First Index, it will now rank search results based on the mobile version of each page, not the desktop version. This is true even if the user is searching on a desktop.
That means Google will penalize websites that aren't mobile-friendly.

Furthermore, if your business has a physical location in LA, chances are that locals are searching for you on their phones, not on their home computers.

The good news is that 78% of mobile searches for local business information lead to a purchase. So, if your customers can find you on their phones, they're already likely to buy from you.

There are a few things you need to do to optimize your website for mobile search in LA. However, most of these tips are universal:

Use a mobile-responsive design (don't build a dual website for mobile)
Use structured data
Embed a viewport meta tag (so your site matches the size of the device)
Get rid of Adobe Flash (most search engines block it now anyway)
Use high-resolution images
Create scannable content
Eliminate unnecessary code to speed up performance
If you aren't sure if your website is mobile-friendly, Google has a handy mobile-friendliness testing tool that will let you know:

Los Angeles SEO Citations and Trust Sites
If you want people in LA to trust your business, you'll need to earn their trust online. You can do that with your website, but today, the best way to earn people's trust is to post positive reviews everywhere. In fact, 84% of people trust online reviews just as much as their friends' suggestions. Google My Business should be your first stop. But after that, consider getting listed on a few of these websites (if applicable):

AngelList
Angie's List
BetaList
Better Business Bureau (BBB)
Bing Places
Capterra
Consumer Affairs
Foursquare
Glassdoor
HomeAdvisor
Judy's Book
Manta
MerchantCircle
Startups LA
Yahoo Small Business
Yelp

Getting listed on review sites and business directories also helps boost your Los Angeles SEO. The best review sites have high levels of authority. If they provide a backlink to your website, that backlink tells Google that your website is authoritative, too. If you decide to post your information to sites like this, make sure the basics are the same on each site. Your name, address, and phone number (NAP) need to be exactly right — otherwise, you could cause complications. Getting listed in directories can take a lot of legwork and lead to some pretty lengthy email chains. If you need help, don't hesitate to reach out to a small business marketing agency.

Local Social Media
Although organic search tends to drive more traffic, social media gives you a unique opportunity to engage more people in the LA area. There are a few ways to do this. For one, anytime you are engaged in any LA business events, make sure you post to social media about it. If you go to any trade shows, festivals, or business conferences in Los Angeles, craft a series of posts to document your experiences and share it with the community. This helps you stand out less as a business and more as a member of the community.

Encourage your audiences to comment, share, and post about their own experiences. Use hashtags when appropriate.
By catering your social content to local interests, you can also optimize them for search. Google does index social media posts, so users can search for them.

From a technical Los Angeles SEO perspective, social media offers you 
the potential to build backlinks. For example, if one of your blog posts goes viral on social media, there will be more chances for people to see your content and link to it on their own websites.

Los Angeles's Networking
When you envision what Los Angeles SEO might look like, you may be thinking of someone sitting in a dark room, typing away in front of a computer (or maybe someone sitting with a laptop on the beach in Santa Monica). But bumping elbows with the locals is one of the best ways to not only build a rapport but also gain new off-page LA SEO opportunities.

Networking enables you to build partnerships with other businesses in the community, which can lead to additional sales or collaborative projects. Those business relationships will be key if you want to build backlinks from authoritative websites that represent businesses in the LA area. You can set up a backlink barter program, for example. Write a few guest blog posts for your partner and embed some links to your website, then let them do the same with your site. Encourage your friends to share your social media posts and comment on your blog. Just be sure to return the favor.

Topical Content and Comment Magnets
Finally, you should create content that people in LA want to read. You can share local news, give your opinion on local trends in the startup sector, and even write think pieces about local issues. If you own an LA business startup in the tech sector, you're in a unique position to offer insights to other entrepreneurs. Don't hesitate to write about your own experiences and ask readers to leave comments. Finish your content with a question to encourage people to engage.
Local Los Angeles SEO Gives Startups an Advantage

90% of startups fail — if you own a startup, you've probably seen this terrifying statistic repeatedly. Supposedly, startups fail because they scale too quickly, they don't produce value soon enough, they can't find a market for their product, or they just run out of money. Gaining traction with SEO and digital marketing services might seem like a small piece of the startup puzzle, but it's an essential one. According to the same Fortune article that listed the statistics above, 14% of startups cited "poor marketing" as a reason for their failure and 19% said they were "out-competed."

Start Getting The Traffic Your Need With Our LA Search Engine Optimization Services
If you want your LA startup to start getting the local traffic you need to grow effectively, combining local Los Angeles SEO with your marketing strategy is the most important marketing decision you'll make this year.

Do you have any experience getting ranked in LA search results? What do you think we can add to this article to help our readers?

Read more about Los Angeles:
Top 5 Hotels in Los Angeles</a
5 Best Tourist Spots in Los Angeles
5 Best Things To Do in Los Angeles for Adults
5 Best Companies To Work for in Los Angeles
5 Fast-Growing Tech Companies in Los Angeles
Los Angeles SEO: How Startups Can Rank #1 in the Competitive Los Angeles SEO Market
Bliss Drive is an expert SEO Company and we drive businesses growth by implementing clear and concise online marketing strategies that encompass all aspects of your business. Through search engine optimization and reputation management tools, we connect businesses with their target audience, increase business loyalty, and expand brand awareness.
We are the only Los Angeles SEO services Company who is recognized worldwide for our marketing excellence and innovation. Don't believe it? Check out our reviews and case studies for yourself.
Businesses rely on us to deliver results, because that's what Bliss Drive does when it comes to LA search engine optimization. But what is it that really sets us apart from other Los Angeles SEO service providers?
INNOVATIVE LOS ANGELES SEO SERVICES COMPANY
The online or internet world is continually transforming and changing at a rapid pace. To overcome this, we're forced to adapt and innovate using the latest tools and technology. However, we don't just rely on the tools of others – we also utilize our own proprietary methodologies.
This is especially true for search engine optimization. Without the ability to innovate and improvise, a Los Angeles SEO company is not much more than a basic content publisher.
The company you'll hire should be not only up to date with the best tools and knowledge, but ahead of their game. If one LA search engine optimization company offers lesser services or has less knowledge than another, who do you think is going to be more capable at providing real, sustainable growth for the long-term?
We go above and beyond what's considered LA SEO to brainstorm new ideas, test new practices, and scour through mountains of recorded data to create and perfect the most innovative strategies possible.
RELIABLE TEAM LA SEO EXPERTS
Our reputation has been built on consistency, quality, and reliability. If a Los Angeles SEO services company wants to create long-term relationship with clients, they need to perform persistently well. Some companies have a very high turn around because they cannot deliver results, cannot provide proper attention to the fine details, and miss out on the bigger picture.
They have good salesman who convince business owners to sign expensive LA search engine optimization contracts by making big promises that they cannot actually back up. At Bliss Drive, we provide complete transparency and are always available. We provide reporting, regular check-ups, and we handle all the heavy lifting so you don't have to deal with anything.
You can genuinely count on us and know that your website's future is truly in good hands – even if you've had bad experiences with another Los Angeles SEO company in the past.
COUNT ON AN AGILE LA SEO AGENCY
As we've already mentioned, internet marketing trends change almost as quickly as fashion styles – actually, quicker! Anyone offering SEO services who wants to make a real impact at any given moment has to be able to respond to changes set forth by google, advertisers, and even changes in consumer habits.
If you don't have the ability to be versatile, you're going to have an extremely hard time remaining competitive, and you'll always be chasing your competitors.
At Bliss Drive we specialize in technical and strategic Los Angeles SEO solutions designed to drive traffic and sales to local business, e-Commerce and corporate websites. With unmatched research capabilities, our team is able to deliver business and consumer intelligence which goes far beyond standard data sets used by most SEO companies in the Los Angeles area.
The strategic advice we provide is up to date, considers the latest in consumer trends, and is geared towards generating the maximum impact on your business, in the shortest time possible.
Frequently Asked Questions about Top SEO Experts And SEO Analysts in Los Angeles
WHAT IS THE BEST SEO COMPANY IN LOS ANGELES?
Bliss Drive is an expert search engine optimization company based out of LA, California, that has been featured in several publications such as Forbes and Entrepreneur. At Bliss Drive, we drive business growth with clear, concise, and consistent online marketing strategies to achieve success in all aspects of your business. Through the use of search engine optimization and business management tools, we help companies connect with their target audience and adapt to the ever-changing online environment.
WHAT IS LA SEO COMPANY?
Based out of Los Angeles, California, Bliss Drive is an expert search engine optimization company that drives business growth with clear, concise, and consistent digital marketing strategies to achieve success for all of their clients.

Featured in several publications such as Forbes and Entrepreneur, Bliss Drive utilizes the best search engine optimization and business management tools to assist companies in connecting with their target audience and increase profitability.
WHAT SEO COMPANIES ARE HEADQUARTERED IN LOS ANGELES?
Headquartered in Los Angeles, California, Bliss Drive is a leading search engine optimization agency specializing in business growth through the use of clear, consistent, and exceptional digital marketing strategies. Featured in Forbes and Entrepreneur, Bliss Drive utilizes the best search engine optimization practices and business management tools to connect business to its target audience, increase profitability, and create success stories for every client they work with.
About Bliss Drive
At Bliss Drive SEO, we help our clients get more organic traffic and generate more leads. We have a highly responsive team of SEO experts that you can count on. Not just search engine optimization, but we also provide you with services like web design, PPC and conversion rate optimization. If you are interested in growing your traffic, sales and leads, then contact us today to discuss more details.
Why Choose Us?
Our agency works on the core principle and that is 100% transparency. Whether it be pricing, deliverables, deadlines, monthly reporting or general communication, we are truly the most transparent company you will every work with. We have maintained this culture throughout our agency and this is what has helped us grow drastically.