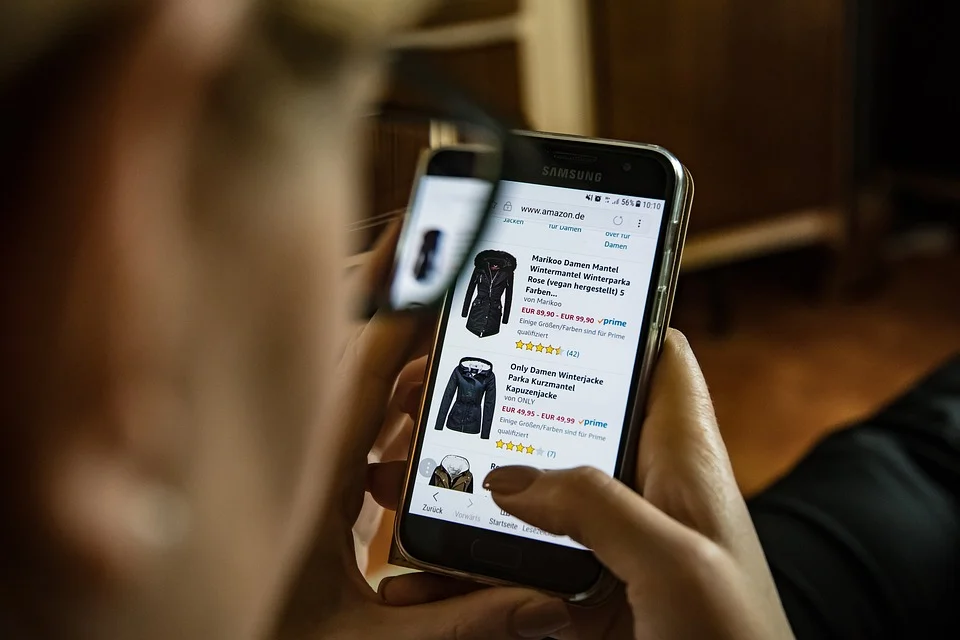 In this increasingly cutthroat digital world, search engine optimization is a vital, multi-faceted process of helping your business stand out amongst a plethora of competitors.
However, doing SEO for ecommerce is an extensive task, one that you have to deal with on top of the daily ins and outs of running your store itself.
It would help you immensely to leverage the expertise of an excellent ecommerce SEO company, so that you can hit the ground running with a solid strategy and pass the bulk of the legwork on to someone else. Overall, outsourcing your SEO services will save you energy, time, and money in the long run.
But, of course, before making that leap, it is important that you have an understanding of what SEO entails. This ultimate guide to SEO for ecommerce was written with the hands-on business owner in mind. Hiring an SEO company is an investment, so it will benefit you to know exactly where your money is going.
So, let's get started!
Ecommerce SEO is the method of making your website rank on top of the search engine results pages (SERPs), particularly Google, the most-used search engine worldwide. With time, the best practices from your search engine optimization efforts will help your business gain more visibility on Search and entice your target market to click on your web pages, thereby boosting your web traffic, and most importantly, increasing your conversion.
In general, there are four parts of SEO:
On-page SEO is the method of optimizing your individual website pages so that each page will rank higher in the search results for your target audience.
Generally, the method includes adding keywords for the search queries you want to rank for to the page's HTML source code and content, such as:
the URL

title tag

meta description

written content

image alternative text

and others
Off-page SEO, on the other hand, refers to all the methods that you perform outside your website to help it rank well in the search results. Often, website owners like yourself think of off-page SEO as building links, but it's actually much more than that.
Other than link building, the method also includes social media marketing, guest blogging, influencer marketing, and the likes.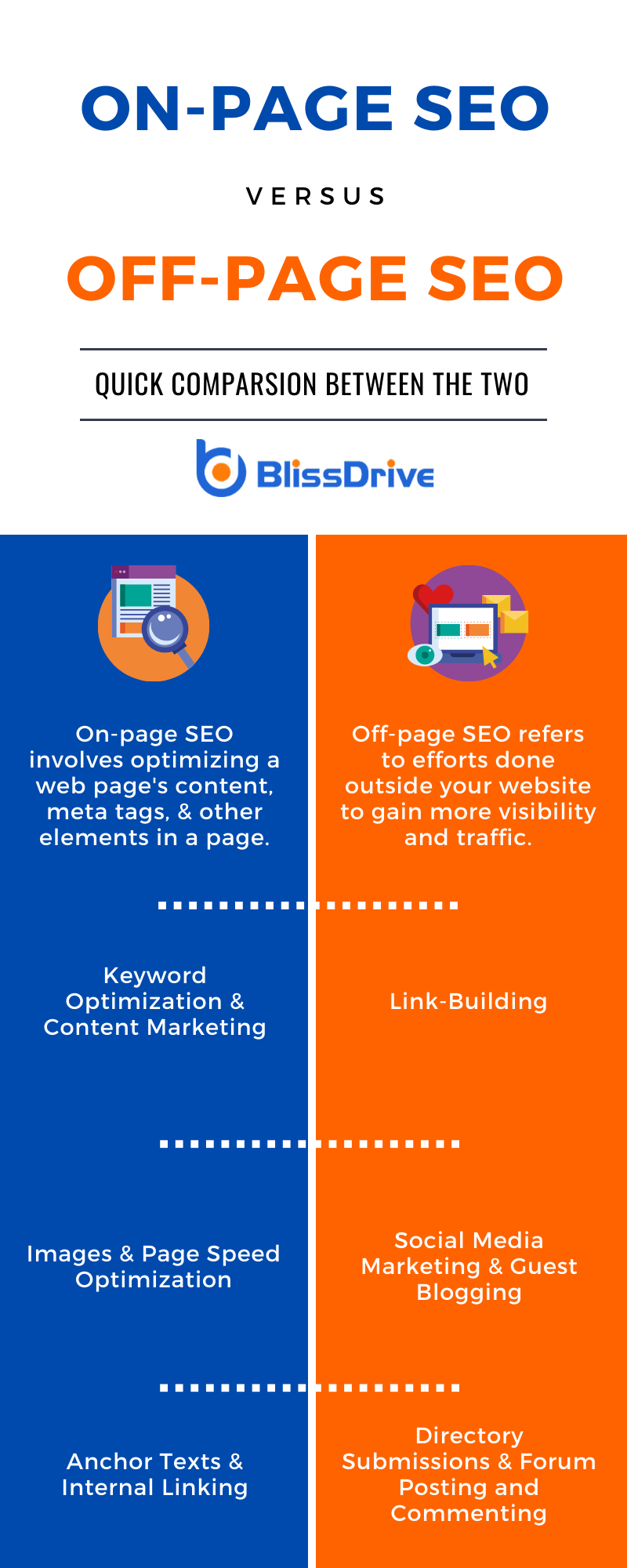 Technical SEO involves all the server and technical website optimizations to help the search engines "spiders" crawl and index your web pages, thereby improving your organic ranking more effectively.
The process usually includes the following:
ensuring that your website or online store can securely receive credit card payments,

making your site mobile-friendly,

boosting the load speed of each web page,

removing duplicate content,

creating a sitemap to help the search engines understand your ecommerce website better,

adding structured data,

using analytics tools, and

generally fixing technical issues in your site.
Local SEO efforts are only applicable to ecommerce businesses that also have physical stores. This is a vital method that will help you make your local customers your raving fans. With local SEO, you can gain more foot traffic in your brick-and-mortar store as well as increase your web traffic in your website.
Best local SEO practices involve:
claiming a business listing,

submitting your business NAP (Name, Address, Phone number) to local directories online,

including other relevant information for local customers, such as operating hours,

ensuring that your physical location appears in local searches, especially in Google,

managing online reviews for your physical store,

curating a local-centric engagement on social media, and a lot more.
Successful local SEO efforts appear on top of Google's featured results, and normally look like this: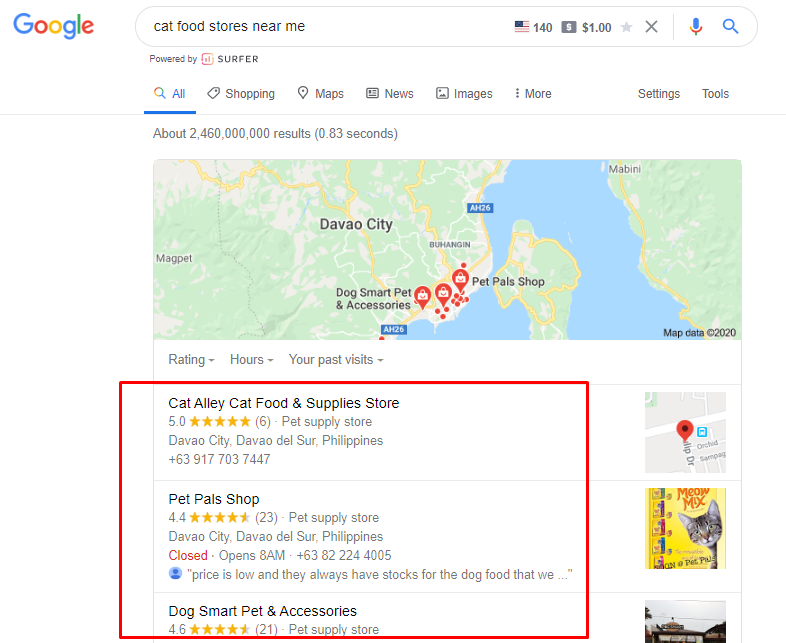 IS SEO IMPORTANT FOR ECOMMERCE?
The answer is a resounding YES.
SEO for ecommerce is one of the most important strategies you must invest in if you want your business to gain awareness and traction online, especially in search results.
Besides that, here are four top-most reasons why SEO is important for ecommerce websites:
SEO BOOSTS YOUR RANKING ON THE SERPS
The search engine results pages are the most competitive areas on the Internet.
With thousands of web pages targeting similar search terms as you are, it's crucial that you have a well-planned strategy to beat out your competitors. A strong SEO strategy presents optimized content to the search engine "spiders". These spiders crawl, index and rank your pages so they come out on top of your target audience's search results.
This is where SEO proves vital to ecommerce sites—if your web pages are not ranking well, you are losing half the battle of selling your items online.
However, if your ranking improves at least one spot higher in the search results pages, your click-through rate is expected to increase up to 30.8%, especially if you are in the first half of the top results on page 1.
SEO INCREASES CLICK-THROUGH RATES
Click-through rate (CTR) is the percentage of clicks you get from your target audience upon seeing your web pages in the search results.
This rate is primarily based on your ranking on the SERPs, but there are also plenty of factors that affect it. Some of these include a catchy title tag, compelling meta description, and rich snippets—which are all improved by SEO.
Typically, search engines like Google only show the top 10 search results for a query on page 1 of the SERPs. 71.33% of customers will be happy going through the results on page 1. This means that this is the number of buyers who will not bother looking at page 2 of the search engine results, putting you at a disadvantage if you're not on the first page.
Now, since page 1 of the SERPs gets the lion's share of customers' attention, it is expected that the top positions get the most significant amount of clicks to their websites. For instance, the result in position 1 gets an average of 31.7% of click-throughs.
Web traffic refers to the number of website visitors or customers who click on your site. Traffic is normally measured in "sessions," and it is often the metric used to tell how effective you are with attracting an audience to your online store.
Basically, the higher you rank on the search results, and the more compelling your title tags and meta descriptions are, the more clicks you get on your website. This leads to more web traffic and thus more awareness raised for your brand.
SEO IMPROVES YOUR SHOP'S CONVERSION
We both know that ranking well on the search results means nothing if you are not converting well or making more sales.
Conversion Rate Optimization (CRO) is a different specialty from SEO, but they sure do complement each other! Conversion rate refers to the percentage of visitors to your website who are "converted" or convinced to do a desired action (such as buying your product or service).
CRO refers to the process of fixing up your website to promote conversion. This has more to do with designing and formatting for appeal, rather than ranking on search results.
Still, SEO can further improve the conversion rate of your website by optimizing your web page to ensure your site visitors that they are in the right place. This is specifically evident in your title tags and headings, site structure, clearly defined products, and compelling calls-to-action.
Speaking of formatting for appeal, SEO can also improve user experience in your online shop. SEO can ensure that your web pages are loading fast enough for customers to keep engaging. It's also about making your website mobile-responsive so your audience can browse and shop from your online store no matter what device they are using.
Digital buyers are predicted to grow up to 2.14 billion by 2021. This data prediction from Statista.com was made pre-pandemic, and that number is expected to grow even bigger.
People are now purchasing more and more products online as restrictions on physical stores remain stringent around the world. No wonder Jeff Bezos, the CEO of Amazon, is set to become a trillionaire by 2026.
While you may not be the next Jeff Bezos by tomorrow, you'll still want to get ahead of your online store competitors! To get there faster, make sure that you get the best ecommerce SEO services for your site.
How to Do SEO for Ecommerce?
By now, you know ecommerce SEO is necessary for your online business to survive and thrive in this digitally-driven world.
Here are 8 actionable steps with the best practices of SEO for ecommerce!
1. PERFORM KEYWORD RESEARCH FOR YOUR SHOP FIRST
Think of keywords as the building blocks of SEO—without knowing the right keywords to target, your optimization efforts will be in vain. So, here's how you do keyword research for your ecommerce store:
FIND THE TARGET KEYWORDS FOR YOUR HOMEPAGE AND CATEGORY PAGES
Your homepage is the most important web page on your ecommerce website, followed by your category pages. So, choosing the right keywords for these pages is critical.
When finding the right search terms to target in your homepage and category pages, you have to consider the relevancy of these terms to your niche, their search volume, and their ranking difficulty.
Your search terms must be:
Highly relevant to the products that you sell or to your brand in general,

Have medium to high search volume, so you're certain that people are looking for this information, and

Have relatively less ranking difficulty or competition, so you can achieve high rankings more easily.
You can do this by using free online keyword research tools such as Ubersuggest.
Here's an example: let's say you have an ecommerce store selling laptop accessories. Your keyword research will look like this:

The search term "laptop accessories" has a significant search volume and relatively low competition: the search difficulty (SD) is at 50 but the paid difficulty (PD) is high at 100.
Nevertheless, this keyphrase is good to target for organic search ranking and is a good keyword for your homepage.
The subsequent suggested keywords such as "laptop accessories for gaming" can be used for your category pages because they also have a good amount of search volume and low competition.
FIND THE TARGET KEYWORDS FOR YOUR PRODUCT PAGES
While your homepage and category pages can target broader keywords under your niche, your product pages must target highly-specific search terms.
You can start finding product-focused keywords for your online store by leveraging Amazon Suggest. Yep, Amazon might be one of your competitors, but there's no denying that it is currently the leading ecommerce site, especially in the United States. So, treat it as a rich product-specific keyword goldmine!
Let's use the same example of the online shop for laptop accessories. Go to Amazon and type in the keyword for one of your products. In this example, let's find keywords targeting accessories for a MacBook.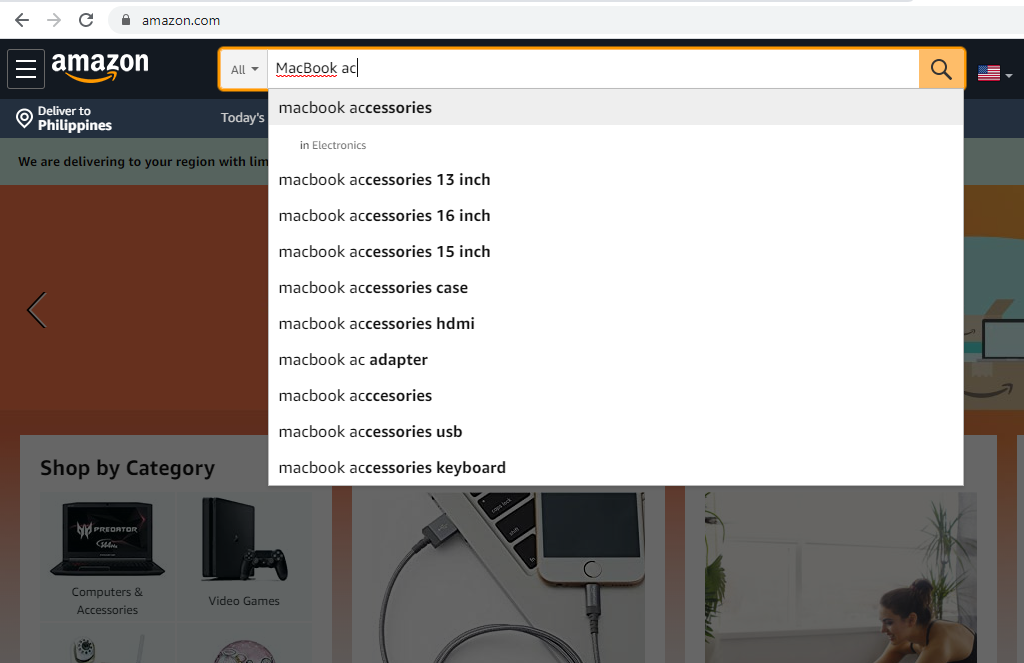 Now, notice that the suggested keywords from Amazon are highly-targeted search terms with multiple words, also known as long-tail keywords.
The best thing about very specific keywords is that they tend to bring in more conversions. Plus, they are less competitive than shorter keywords.
Also, notice that Amazon Suggest will sometimes show you keywords that can be great for your category pages. Take a look at this:
Another free keyword research tool is the Keyword Tool Dominator (KTD). You can use this to scrape search terms from other massive ecommerce sites worldwide. Here's how it works.
First, select the ecommerce site or search engine that you want to mine for the best product keywords: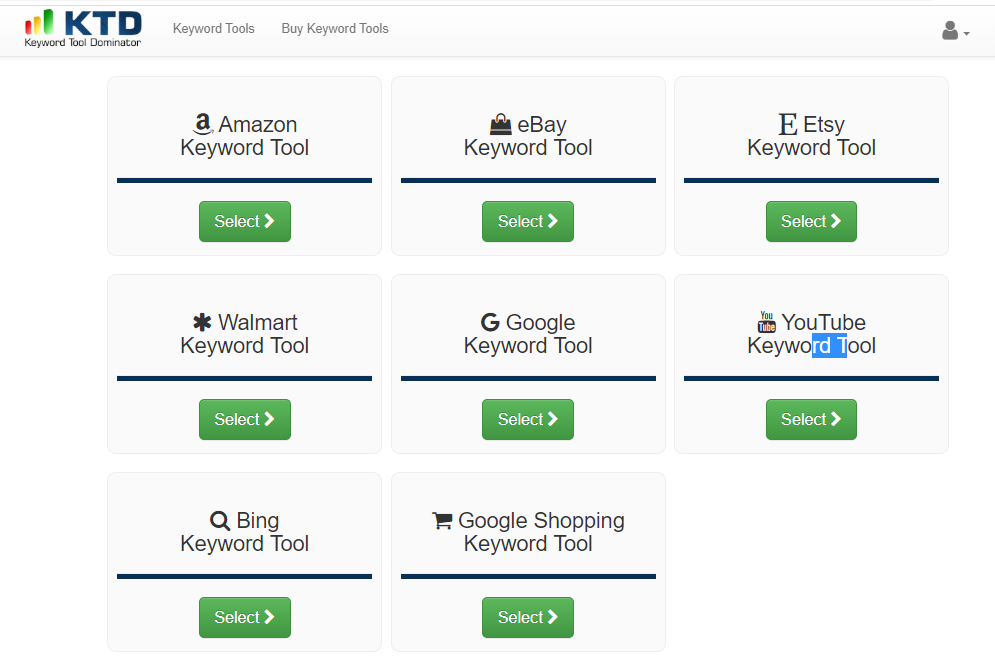 Then, type in one of your product keywords into the tool and it will show you plenty of search term suggestions from your chosen ecommerce site or search engine: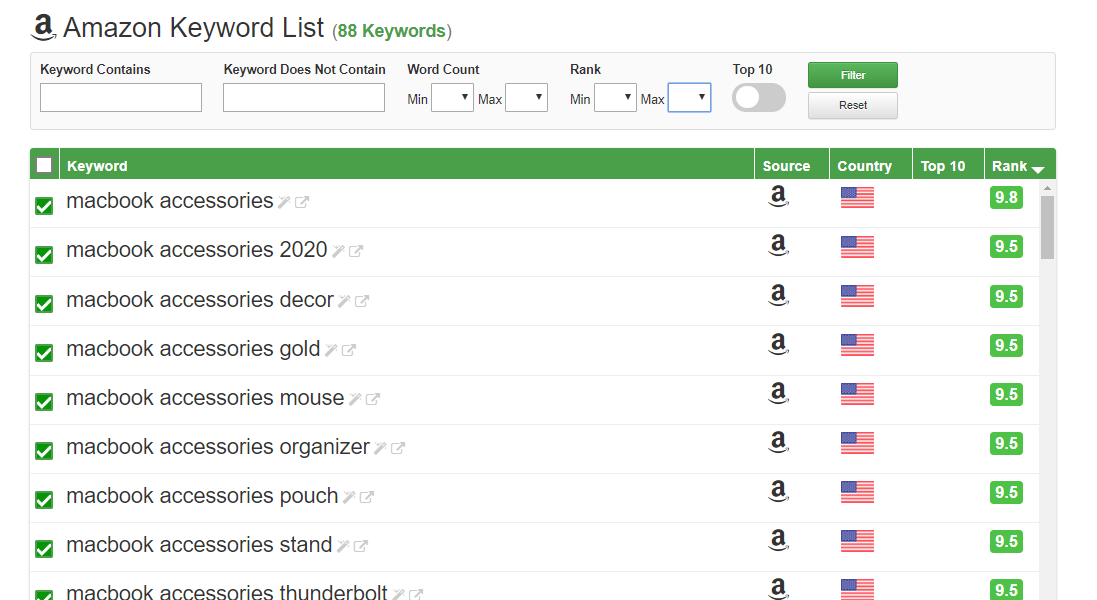 So, if you want to easily find more long-tail and product-specific keywords from Amazon or from other massive ecommerce sites out there, use the KTD.
There are also plenty of keyword research tools that you can use to get more highly-targeted search terms for your online store. We'll discuss these later!
FIND LONG-TAIL KEYWORDS FOR YOUR BLOG
Some search terms might not have a place on your main web pages, but you can use your blog to help you rank for popular keywords or long-tail keywords that your target market uses.
But what exactly are long-tail keywords? These are unique and highly-specific search terms that your potential customers use to find information and products online. From the word "long", you can expect these terms to consist of more than one word.
These keywords are often interrogative sentences or actual questions typed in by your target market in the search engines. You can find them by mining the data from Google's "People Also Ask" section: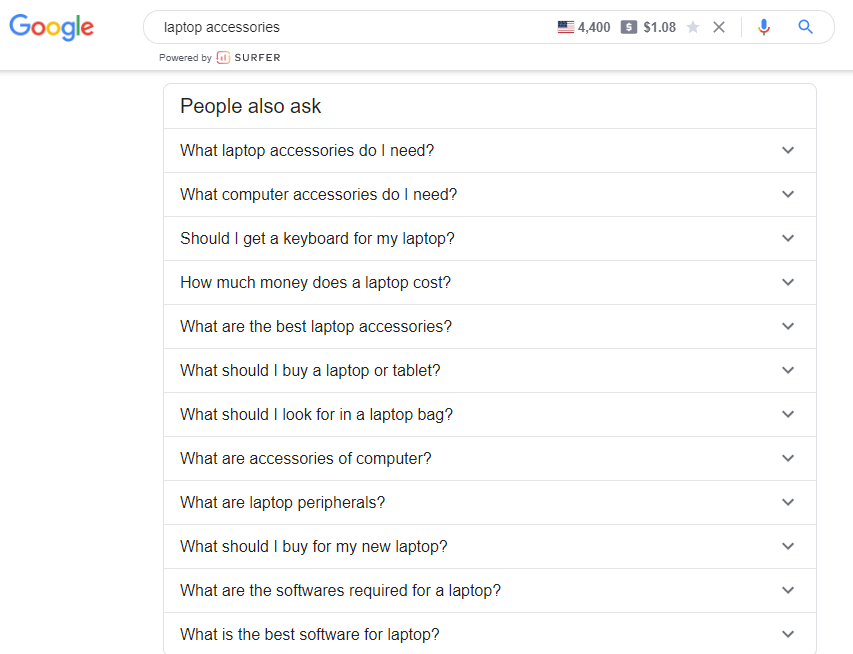 Or use the data from Answer The Public: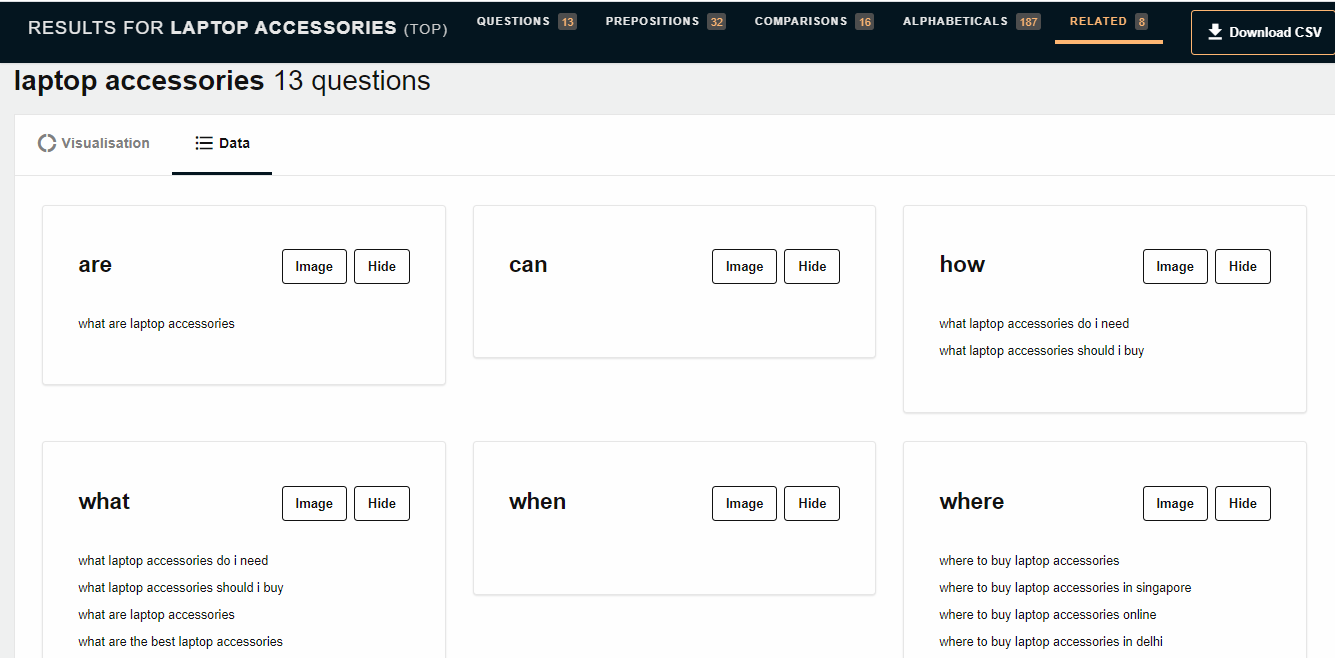 DON'T FORGET THE LSI KEYWORDS
Latent Semantic Indexing (LSI) keywords are terms and phrases that are closely related to your target keyword.
For example, if you are optimizing for the primary keyword "smart camera" for your category page, the search terms closely related to this main keyword are:
Wireless camera

Home security

1080p

Full HD

Outdoor security camera

Cloud service

Indoor wireless camera

Night vision

Motion detection

2-way audio
So, here's how you find LSI keywords for e-commerce SEO:
First, you can search from Amazon again or from any competitor site that outranks you, and eyeball some semantic keywords that appear several times and prominently on the page.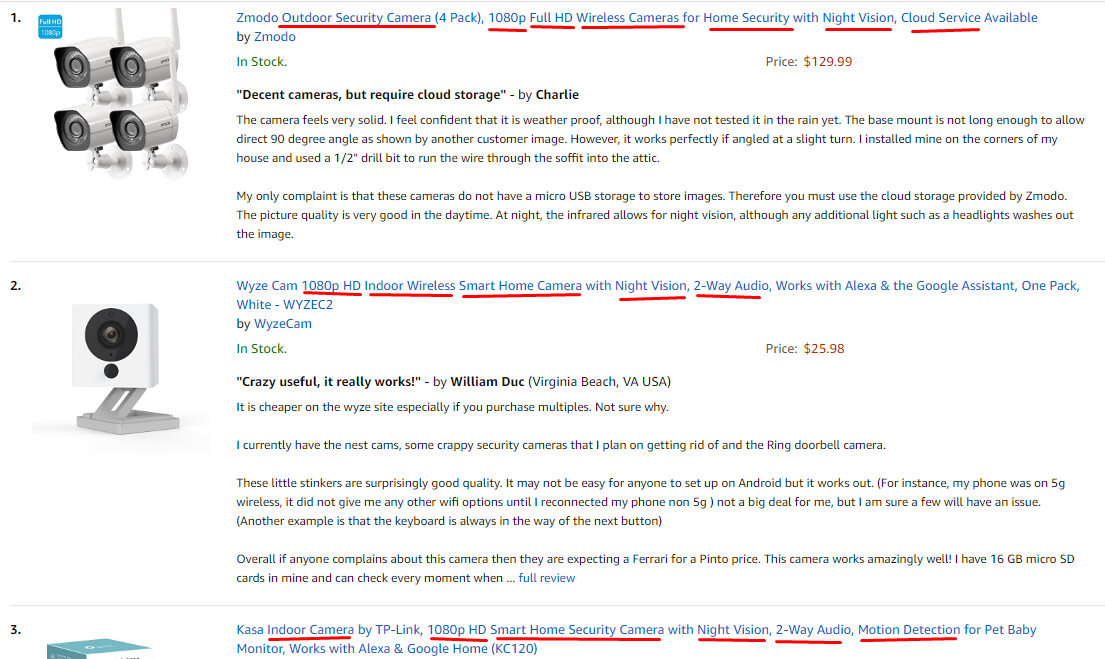 Then, you can use Google's Keyword Planner to get more suggested LSI keywords from the leading search engine itself.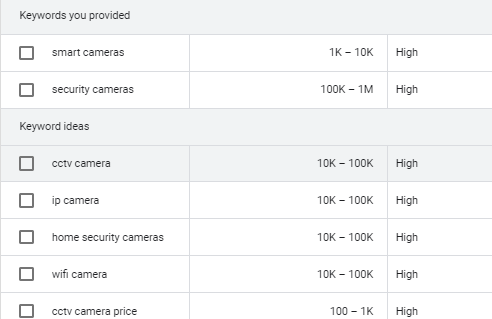 And once you've gathered your LSI keywords, make sure to sprinkle them into your content—both in category and product pages.
RESEARCH YOUR TOP COMPETITOR'S KEYWORDS
If you have big competitors that rank better than you on the search results pages, you can use their websites to be your keyword goldmine—just like how you do it with eyeballing Amazon keywords.
But there's another technique you can use to research your top competitor's keywords.
First, enter your target keyword into Google search: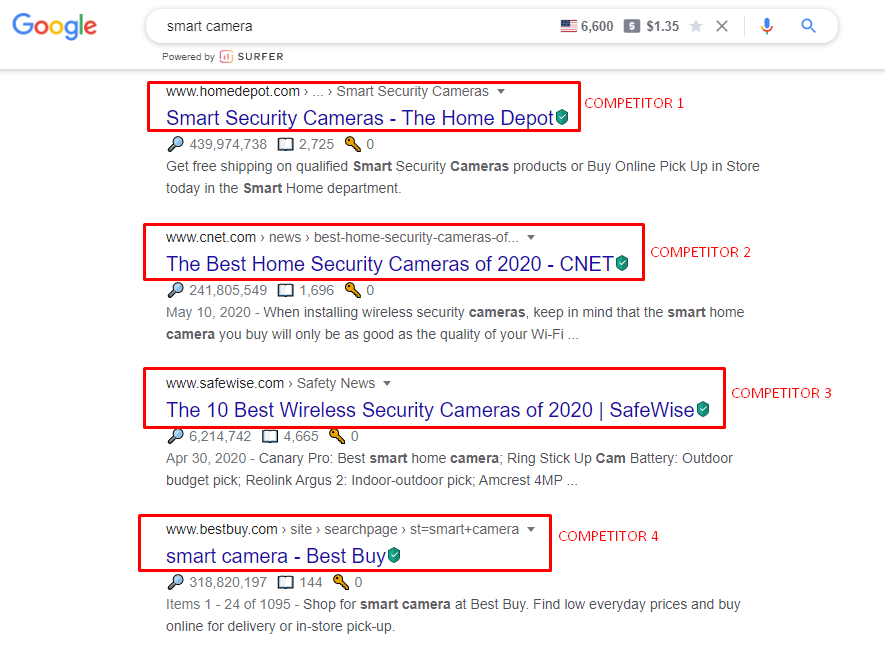 You will see your top competitors' search results. Choose one:
Then, scan the site's category pages and product pages for keywords: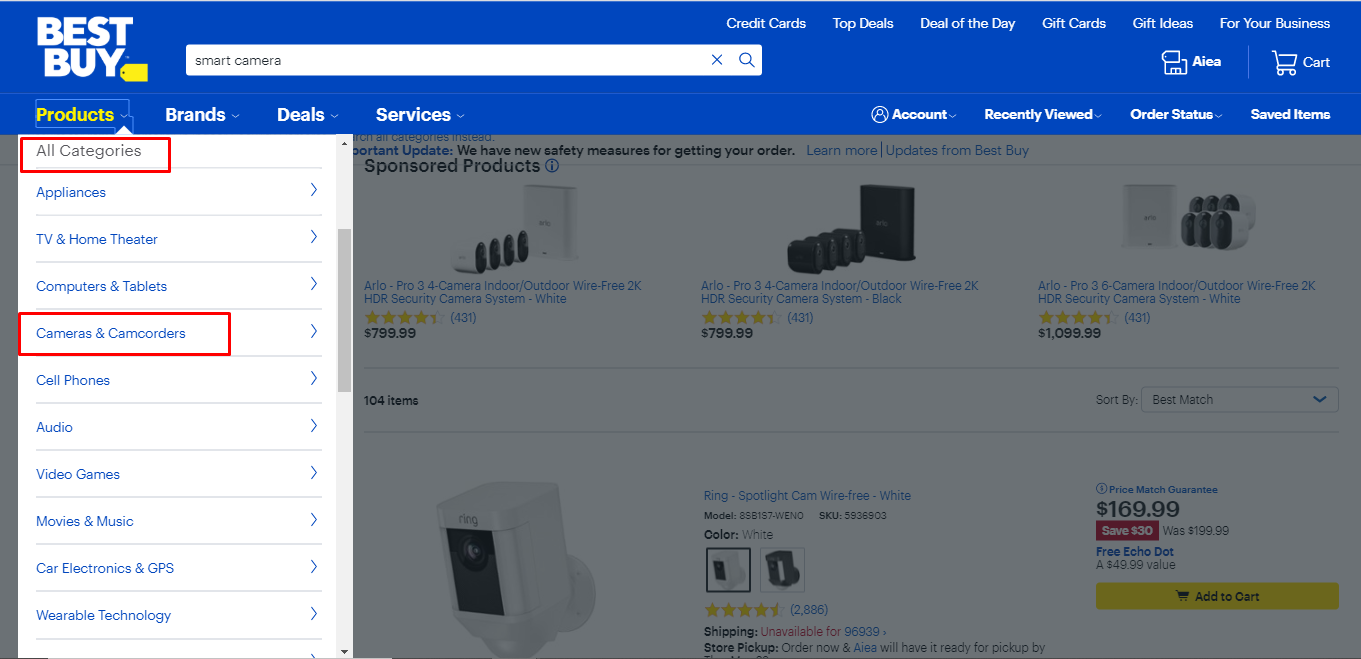 Now, remember that when you're researching your top competitor's keywords, make sure that you do not blindly copy or use all the keywords that they are using! Just because they rank better than you, it does not mean that they have the best keywords.
There are other factors to consider, such as their domain authority (DA). Domain authority is a ranking score that suggests how well a website can rank on the SERPs.
Your competitor's site may not have the best keywords, but they may have a high DA due to other factors, so it's best to take their keywords with a grain of salt.
At the end of the day, it's much more important to perform the best practices when researching the right keywords to target.
BEST PRACTICES OF CHOOSING THE RIGHT TARGET KEYWORDS
When evaluating the best keywords to rank for, follow these three strategic steps:
STEP 1: EVALUATE THE SEARCH VOLUME
You must choose keywords that your target market is actually searching for. If no one searches for a keyword, no matter how logical it may seem to use, you can't expect any conversion from such a search term.
Now, search volume differs between different industries—some industries find 100 monthly searches to be massive, while others treat 10, 000 monthly searches as a small amount.
Over time, you will get an idea of what a low search volume and a high search volume look like for your niche.
To see the search volume for a specific search term, just enter it into a free keyword research tool such as Keyword Surfer and specify the region you are targeting: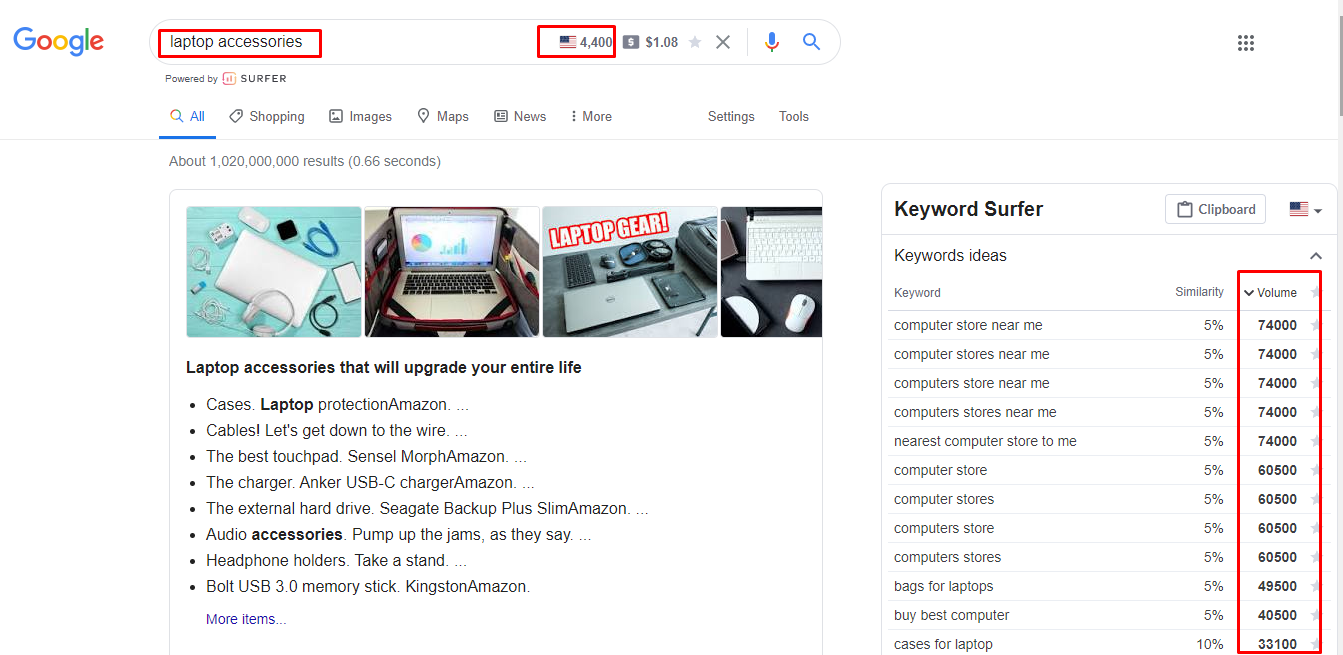 Basically, you would want to choose a keyword that has a high search volume since it suggests that plenty of your potential customers are using that particular search term.
STEP 2: PICK SECONDARY KEYWORDS THAT ARE HIGHLY SIMILAR TO YOUR PRIMARY KEYWORD
You can't exhaust your main keyword in your web page's content. In fact, the ideal usage of the primary keyword on a page is within three to five times. So, you will need secondary keywords to sprinkle within your content.
Besides finding long-tail and LSI keywords, you can also use the features from keyword research tools to get your secondary keywords.
This is where you can find them in Ubersuggest: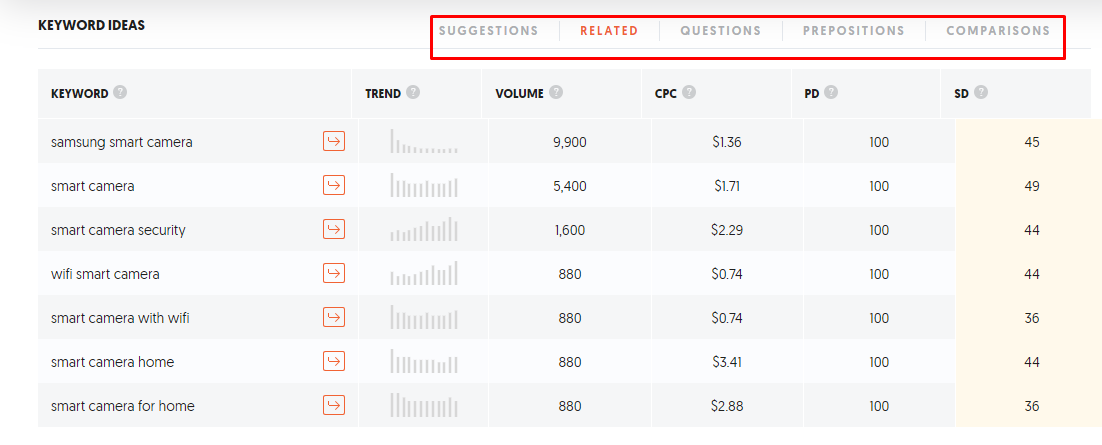 And this is where you can find them using Keyword Surfer—with data on how similar the search terms are to your main keyword:
The more similar the keywords are to your main search term, the better.
STEP 3: CHOOSE THE KEYWORDS WITH LOW COMPETITION
See, if you target highly-competitive keywords, it will take you such a long time to rank high—if ever you will rank high for such competitive search terms.
So, I would recommend that you choose keywords with low to medium competition or relatively low SEO difficulty rate.
This is where you can find the competition metric in Google Keyword Planner: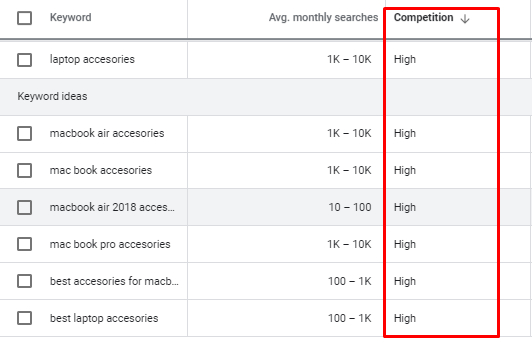 And this is where you can find the SEO difficulty metric in Ubersuggest: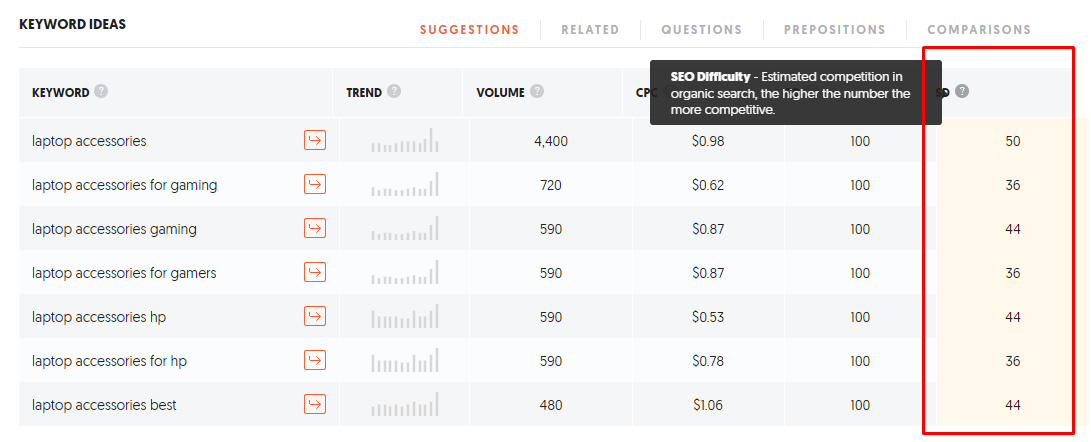 So, to recap the best practices of choosing the right keywords to target:
Make sure that the keywords you choose have significant search volume from the specific region that you are targeting.

Pick the highly-related keywords to your main search term.

Choose the keywords with relatively low to medium competition or low search difficulty.
THE TOP KEYWORD RESEARCH TOOLS YOU CAN USE
That being said, let's talk about the top keyword research tools you can use to find the right keywords for your website.
This list is in no particular order and it includes the free keyword research tools previously mentioned in this article as well as some new ones!
AMAZON SUGGEST

GOOGLE SUGGEST

GOOGLE'S PEOPLE ALSO ASK SECTION
After doing keyword research for your store, you can start planning web pages to build around those keywords. Which brings us to the next step in SEO for ecommerce…
2. PLAN YOUR ECOMMERCE SITE ARCHITECTURE
A site's architecture plays a vital role for all websites, especially in an ecommerce site—the structure of your online store will determine how well the search engines can crawl and index your web pages.
Plus, your site architecture will also define your user experience which can significantly impact your ranking on search results!
An ecommerce website is likely to have way more pages than a typical blog, pizza shop, or a legal service site. Thus, it's critical that the website architecture of your online store makes it easy for customers and search engine "spiders" to find their way around your website.
When planning your ecommerce site architecture, there are two principles that you should follow:
Make sure to keep things simple and scalable

Ensure that every web page is within three clicks from your homepage
To illustrate, here's an example of a badly-structured ecommerce site: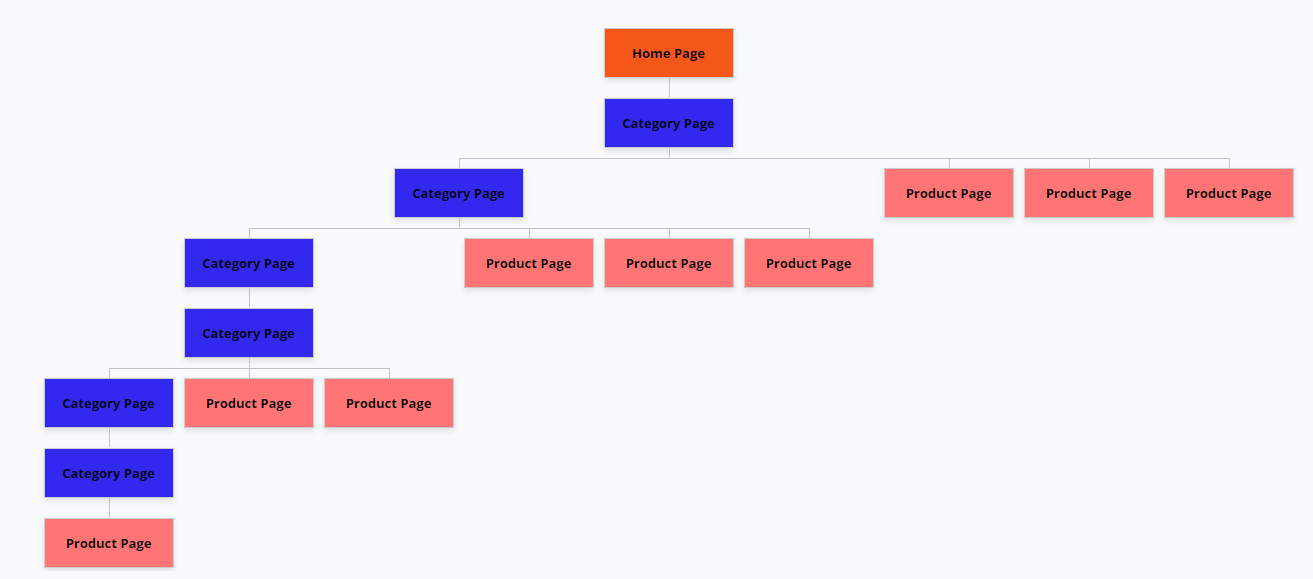 Here are the reasons why this site architecture sample is wrong on many levels:
The site structure is not simple. It's hard to understand which web page goes to which web page.

The site is not scalable. When there's a need to add a new category, you will find it difficult to create a new layer without having to reorganize the existing categories.

It's a "deep" site architecture. Some of the product pages take more than three clicks away from the homepage. This dilutes the authority of the backlinks (also known as referral links) that point to your homepage.
TAKE NOTE! If you think that your ecommerce store has a messy site architecture, don't move web pages around by yourself. Instead, consult ecommerce SEO experts so that you can get popular existing pages redirected to highly-optimized new web pages in your website.
On the other hand, here's an example of a well-implemented ecommerce site architecture: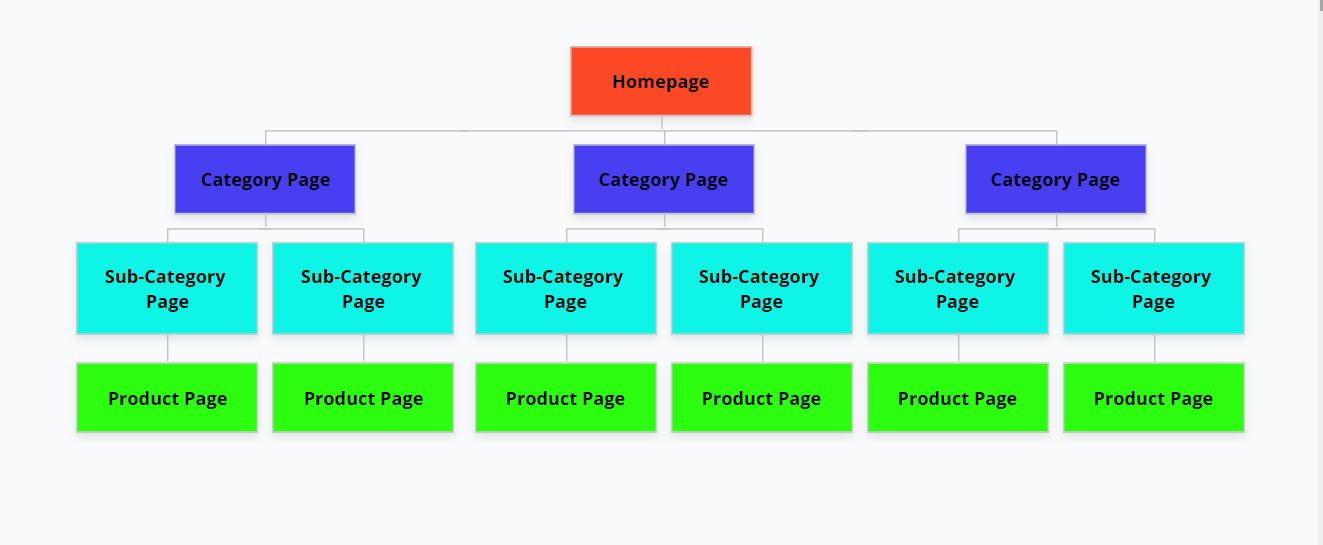 This well-optimized site architecture will now concentrate the link authority to the store's category and product pages, thereby helping these web pages rank high in the search results.
Plus, this kind of structure makes it easier for the search engines "spiders" to crawl and index your ecommerce website.
Most importantly, a well-optimized online shop is not only great for the search engines but also for your website visitors and customers—a simple and "shallow" site architecture makes it easy for buyers to browse and find the products they want to buy.
That said, let's take a look at a live ecommerce website with an excellent site structure, thedogline.com.au: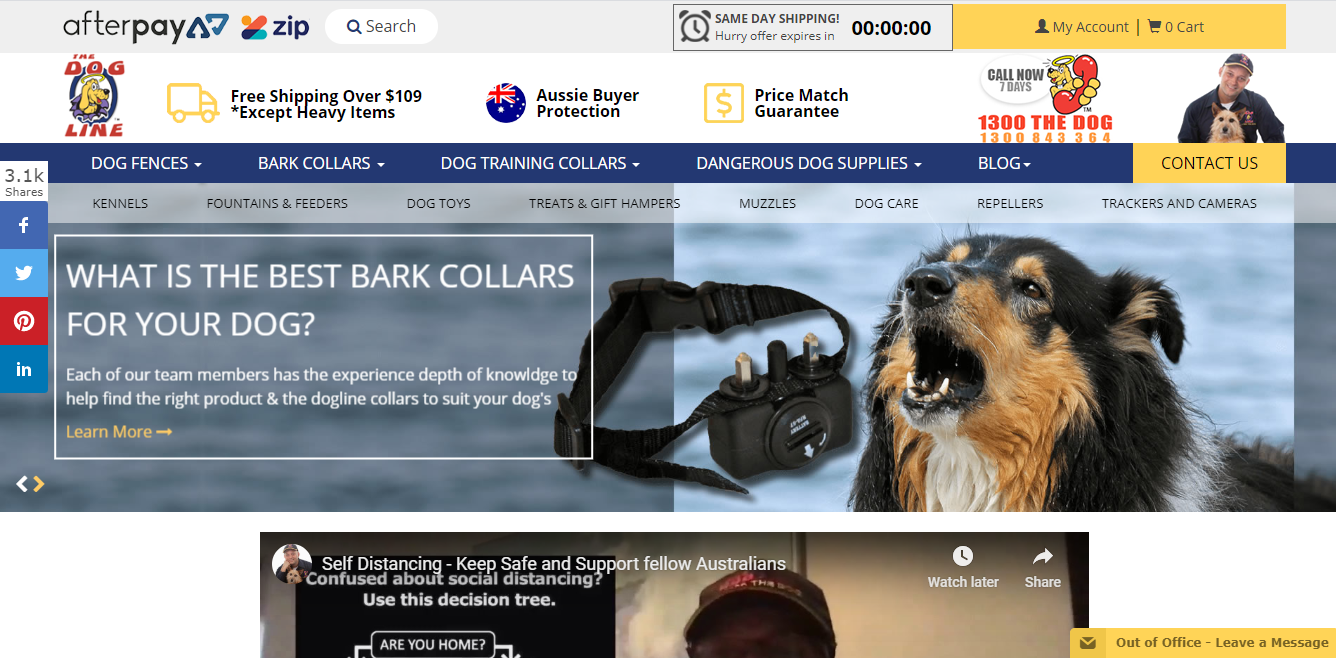 Let's say you're looking for tools to help you train your dog during home-quarantine.
So, you'd click on the category tab "Dog Training Collars."
Then click on the sub-category page "Clickers and Reward Trainers."
Then, you get a list of the products in that sub-category page:
Now, we're talking! In just three clicks, you've found what you need to buy to train your dog. This kind of website structure is more user-friendly, which both your customers and Google will love.
3. PERFORM ON-PAGE OPTIMIZATION
Once you have chosen your best keywords and your site architecture is well-implemented, it's time to optimize the category and product pages of your ecommerce website. These two types of web pages will generate the most traffic and conversion, so make sure to make them as your top priority when doing on-page ecommerce SEO.
Here are the best practices you can emulate when doing on-page SEO for ecommerce:
IDENTIFY CURRENT PROBLEMS OCCURRING ON YOUR WEBSITE
Conducting a website and SEO audit can pay dividends—this makes the process of fixing the problems in your ecommerce site a lot faster and easier.
This way, you can also focus on finding site errors quickly and determine your website speed.
Screaming Frog is a free tool that can help you find website errors easily. It can provide you with comprehensive data of web page errors, missing header tags, redirects, missing meta tags, duplicate pages, and a lot more.
Indeed, the tool will help you improve your user experience and SEO in much less time.
GIVE YOUR WEB PAGE URLS A LOT OF THOUGHT
Ideally, the URLs of your web pages should be keyword-rich and short. One study suggests that the shorter and keyword-targeted the URL is, the higher the web page ranks on the search results.
But since you have an ecommerce website, your URLs are going to be longer, especially in your product pages. And that's okay!
In your product pages, your URL should also include not just the product-specific keyword but also the category and subcategory where the product belongs.
Like this:
https://yourdomain.com/category/subcategory/product
But this does not give you the license to lengthen your URL to 50 characters or more! Remember, Google gets confused with super-long URLs. Plus, lengthy URLs can negatively impact the significance of target keywords in the URL.
Here's an example of an unnecessarily lengthy URL for an ecommerce product page:
See how long the URL is? Plus, it contains unnecessary stuff such as "B07YBHZ8T" which might be the product code as well as keywords such as "detection two way" which could have been used a few times in the product page's content.
Now, here's an example of a well-structured ecommerce web page URL:

As you can see, there are no unnecessary elements in the URL and it starts with the main category, subcategory, product page, with a highly-specific keyword for the product.
SET CATCHY AND KEYWORD-DRIVEN METADATA, HEADINGS, AND IMAGE ALT TEXTS
Your keywords should also be naturally seen in your title tag, meta description, headings, subheadings, and image alt texts.
Take note that we said "naturally" because you don't want to stuff your keywords in your content! Don't use a keyword in all of your subheadings if it doesn't appear natural.
Of course, sticking to your keywords doesn't mean you can't get a little creative. Making your title tags and headings catchy can assist in capturing your target audience's attention.
Here are a few best practices to follow when writing your title tags, meta descriptions, and subheadings:
Add modifiers in your title tags and subheadings such as:
Deals

Cheap

Buy

Best

Free shipping

Free delivery

Review

Discount
Use click-worthy words in your title tags and meta descriptions such as:
Lowest Price

10% Off or 15% Off or 20% Off

Money Back Guarantee

Sale

Overnight Shipping

Guarantee

Limited Sale

Limited Offer

Great Selection

Few Stocks Left

All Items are on Sale
Write a descriptive alternative text for your images such as:
The search engines can't really understand what's in your images, but you can still rank for image search by writing keyword-driven and descriptive alt text for your images. This is how the search engines learn what your images are all about.
WRITE UNIQUE AND COMPELLING CATEGORY AND PRODUCT DESCRIPTIONS
Have you noticed what big ecommerce sites have in common when it comes to their category and product pages?
They have a compelling category description: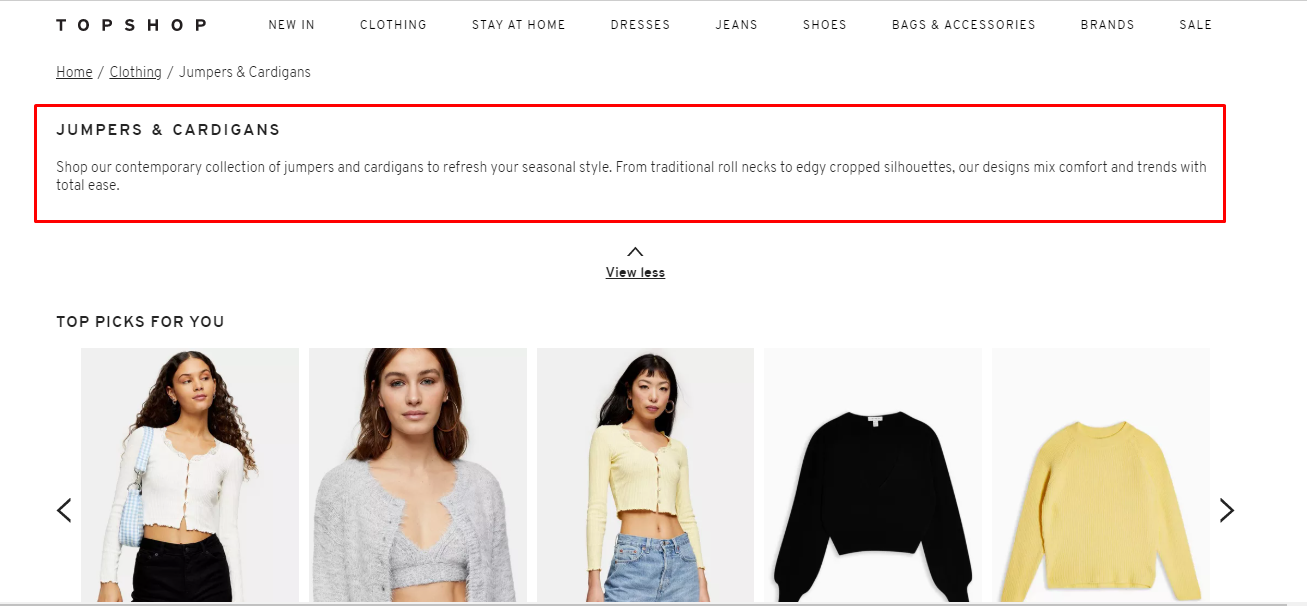 And a unique product description:
Now, this is because of two reasons:
Compelling descriptions tell your website visitors more about the category page they're viewing and the product that they might be interested to buy.

Descriptions help the search engines "spiders" understand what your category and product pages are all about.
That's why your descriptions should always be unique—never copy and paste the same description for categories and products. Spend time writing persuasive content and make it inviting enough for your customers to make a purchase.
Here are a few best practices you can follow:
Make sure to add your primary keyword in your descriptions.

Use other variations of your main search term, such as long-tail keywords and LSI keywords, but sprinkle them naturally throughout the page content.

Ensure that your descriptions are readable and use simple language for your buyers to understand them easily.

List IteProvide essential information about the category and product that your potential customers might need to know before they buy.

Add 1000+ words of content in your category and product pages—sprinkle your primary and secondary keywords within three to five times all throughout the page.
The thought of optimizing the content of each category and product page in your ecommerce site can be daunting. But everything can be done smoothly with a strategic process. Start with your most important category and product pages, and work your way out.
LEVERAGE SCHEMA MARKUP TO APPEAR ATTRACTIVE ON SEARCH RESULTS
How would you like to see your product display in the search results?
A regular display like this?
Or in a more attractive display like this?
As you can see, the second example includes product photos, prices, and ratings—things that are very helpful to a customer when they're making their mind up about a purchase.
All this extra information was made possible with Schema markup, a set of code that serves as a semantic vocabulary for the search engines to display more information about a web page to your potential customers. When you put these codes on your pages, they will earn the attractive rich snippets whenever they are displayed in the search results.
Rich snippets are not only eye-catching and informative, but they can also help you significantly increase your web page's click-through rate, thereby driving more web traffic to your online store and boosting your sales.
Google and other search engines use the information from Schema markup to better understand your content, whether it's a category page, a product page, a blog post, or a landing page for a campaign. This is why utilizing Schema markup is great for e-commerce SEO.
However, Schema markup can get a bit too complicated. So, let's talk about the basics of it.
PRODUCT PAGES SCHEMA MARKUP
According to Google's Webmaster Guidelines, it is best to add a markup to product pages because it helps Google provide detailed product information in the search results. With Schema, your target buyers can see essential information such as review ratings, number of reviews, price, and product availability.
To markup your product pages, you can use Schema.org product markup.
There's a variety of several Schema properties that you can add to your product pages, but here's a shortlist of the most common:
CATEGORY PAGES SCHEMA MARKUP
Google's Webmaster Guidelines state that since a category page lists several different products and other types such as videos and recipes, each entity on that page should be marked up.
This means that if you use Schema markup on a single product listing in a category page, you must markup all the items on that page.
However, unlike product pages that need to be marked up extensively so that you can achieve rich snippets in the search results, category pages markup are simply about helping the search engines understand the type of page you have, and not really about displaying rich snippets.
Therefore, you can keep the category pages in your Schema markup light and simple, so you can focus more on marking up your extensive list of products in your entire ecommerce store.
Also, you can use Google's Structured Data Testing Tool to help you ensure that you have provided all the information needed for your category and product pages to appear attractive in the search results—or see missing details for that matter:
As you can imagine, adding Schema markup to your thousands of web pages will really require a massive amount of your time and energy. This is where you might consider hiring an ecommerce SEO agency to help you out, not just with Schema markup, but also in improving your overall ecommerce SEO.
MAKE SURE TO DO INTERNAL LINKING WELL
Internal linking to high-priority pages in your website is important in SEO for ecommerce. This is like telling the search engines such as Google that they should also "crawl" the pages you are linking to, so they can index and rank them as well.
However, keep in mind that when you link to a web page from your current page content, that destination page should be highly relevant to the linking page. Also, you must internally link from authoritative pages in your store to high-priority category pages and product pages.
Here's an example. Let's say you have successfully published a blog post that has generated multiple high-quality backlinks to your site. At the same time, you have a product page that currently sits in the fifth rank of Google.
Now perhaps these two different pages are relevant to each other—for instance, you might have mentioned the product type in the blog post. So, you need to include a keyword-rich anchor text in the blog post and link it to the product page. This will boost the product page's ranking one spot higher, and maybe even push it to the top spot!
A good internal linking structure of an ecommerce site looks like this: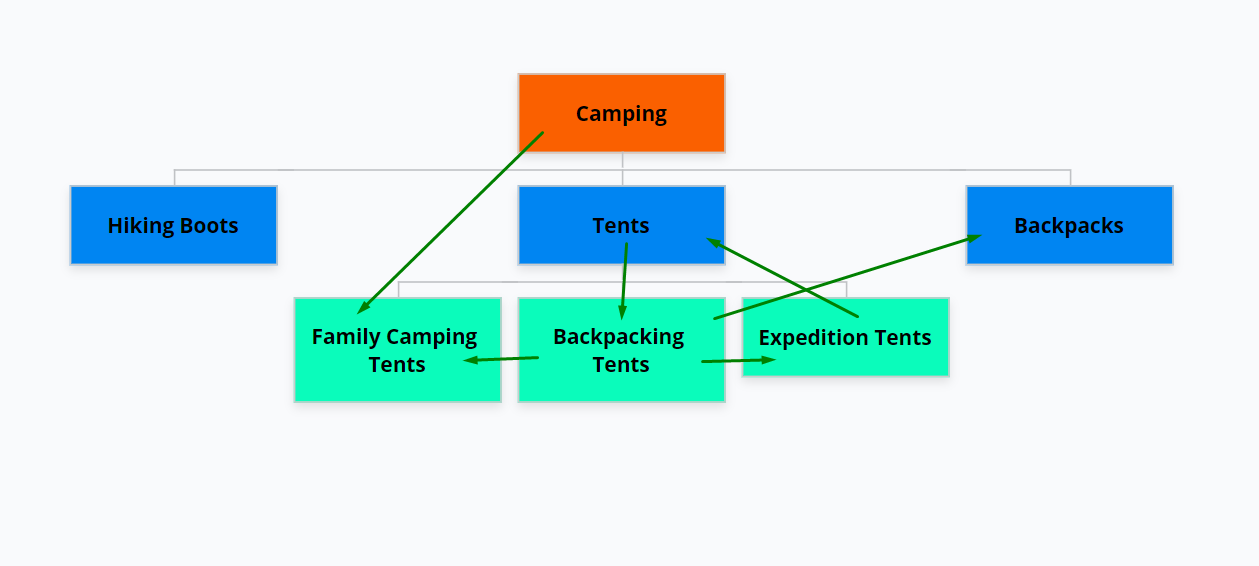 KEEP USER EXPERIENCE IN MIND
Great user experience means that your website is easy-to-navigate, interesting, and helpful. So if your visitors have a positive user experience on your site, they will spend more time exploring your pages.
Good user behavior will serve as a signal to Google and other search engines that your website is giving users a positive experience, and that you deserve better visibility and ranking.
You can give the best user experience to your potential customers by optimizing for the following:
MOBILE-RESPONSIVENESS
This means that your web pages should look and work well regardless of the device your customers are using to browse your store—whether they are using a desktop, laptop, tablet, or mobile phone.
You can test your ecommerce site's mobile-friendliness by using this mobile-friendly test tool from Google: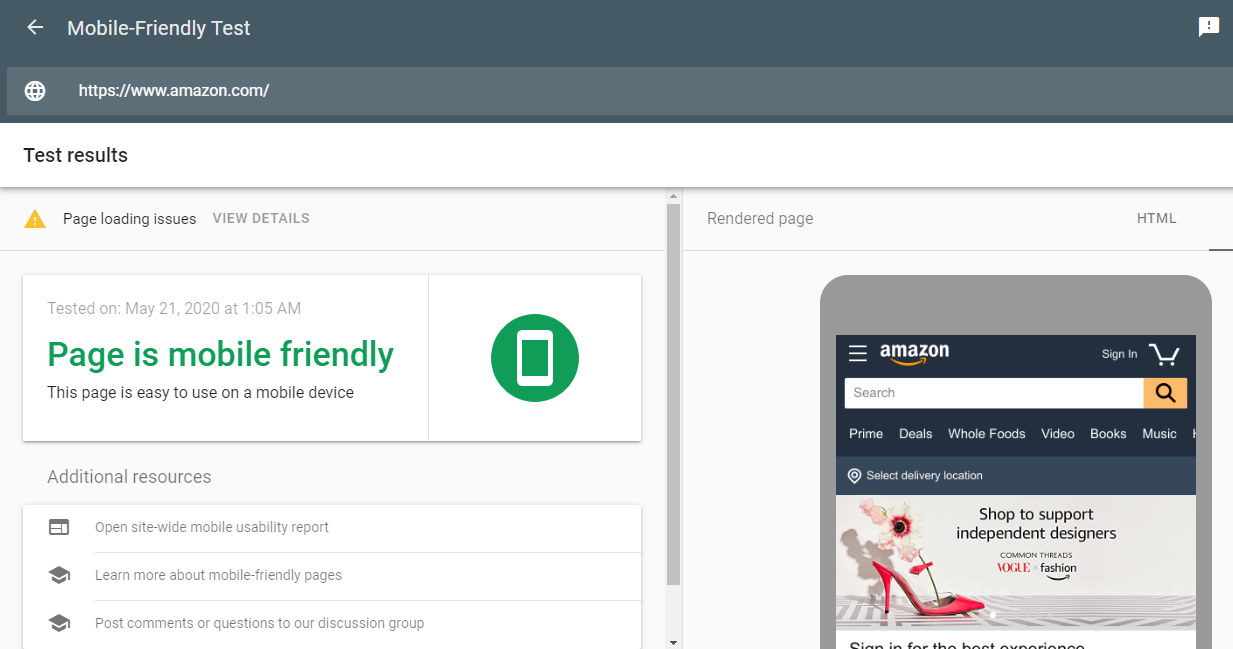 LOAD SPEED
Did you know that 47% of buyers expect that your ecommerce site will load in less than two seconds? And 40% of them will abandon your shop and go browse a different store if yours will take more than three seconds to load.
Therefore, optimizing your load speed is critical in SEO for ecommerce.
To test the load speed of your website and fix the errors that are slowing you down, you can use Google's PageSpeed Insights. It provides detailed diagnostics and recommendations for your site's load speed: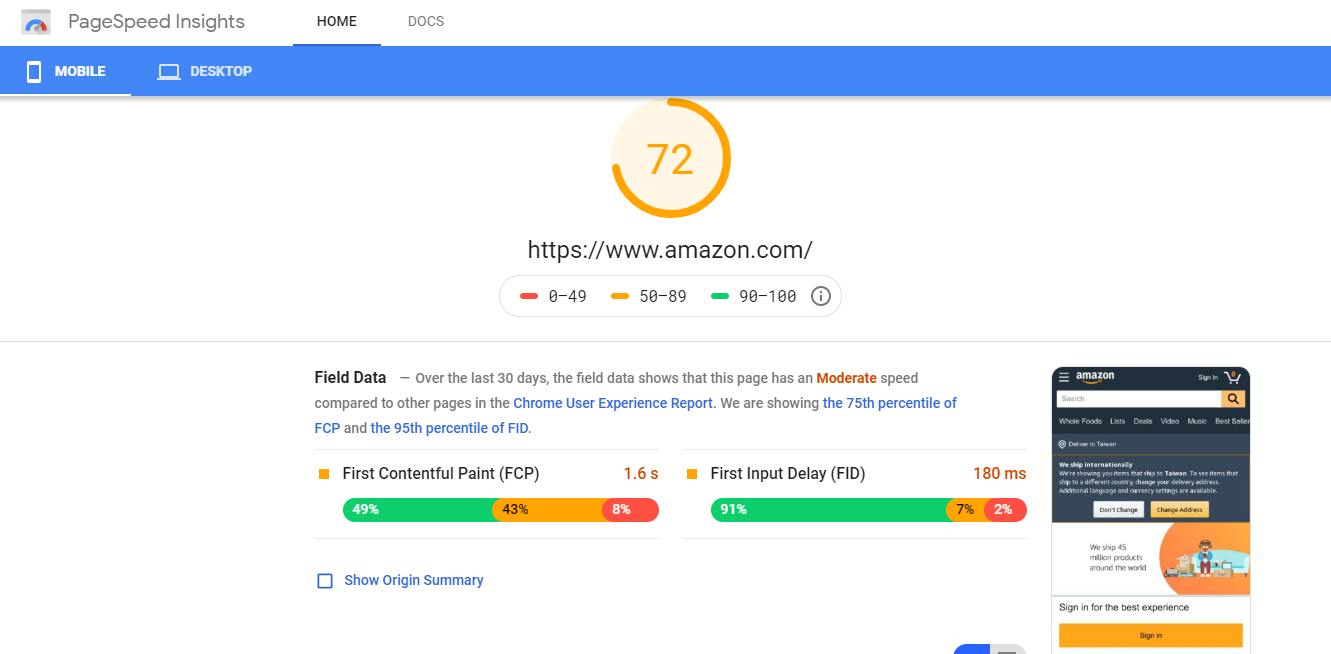 INTUITIVE INTERFACE
An intuitive interface can be successfully achieved with a well-thought ecommerce site architecture. Ideally, your customers should be able to find what they want within three clicks. A flat website architecture makes this possible.
4. TAKE CARE OF YOUR TECHNICAL SEO
Technical SEO is one of the most essential aspects when doing ecommerce SEO, mainly because your online store will have dozens to hundreds more web pages than a non-ecommerce site.
Furthermore, ecommerce sites typically don't get enough backlinks pointing to them. Technical SEO fills this gap. If you have a very tight competitor, fixing a technical SEO issue can mean the difference between you outranking that competitor on search results.
That's the reason why it is important to run technical e-commerce SEO audits regularly.
You can tap the expertise of an ecommerce SEO company to perform a strategic SEO audit on your site and follow these actionable steps:
RESOLVE CONTENT WITH DUPLICATE ISSUES
Google did not officially state that web pages with duplicate content will be penalized. However, the search engine will filter identical content, and this can negatively impact a performing web page's rankings and backlinks.
That's why it's essential to resolve duplicate content by deleting one web page or redirecting that identical page to the one that's performing well.
You can find web pages with duplicate content by using the Screaming Frog SEO software: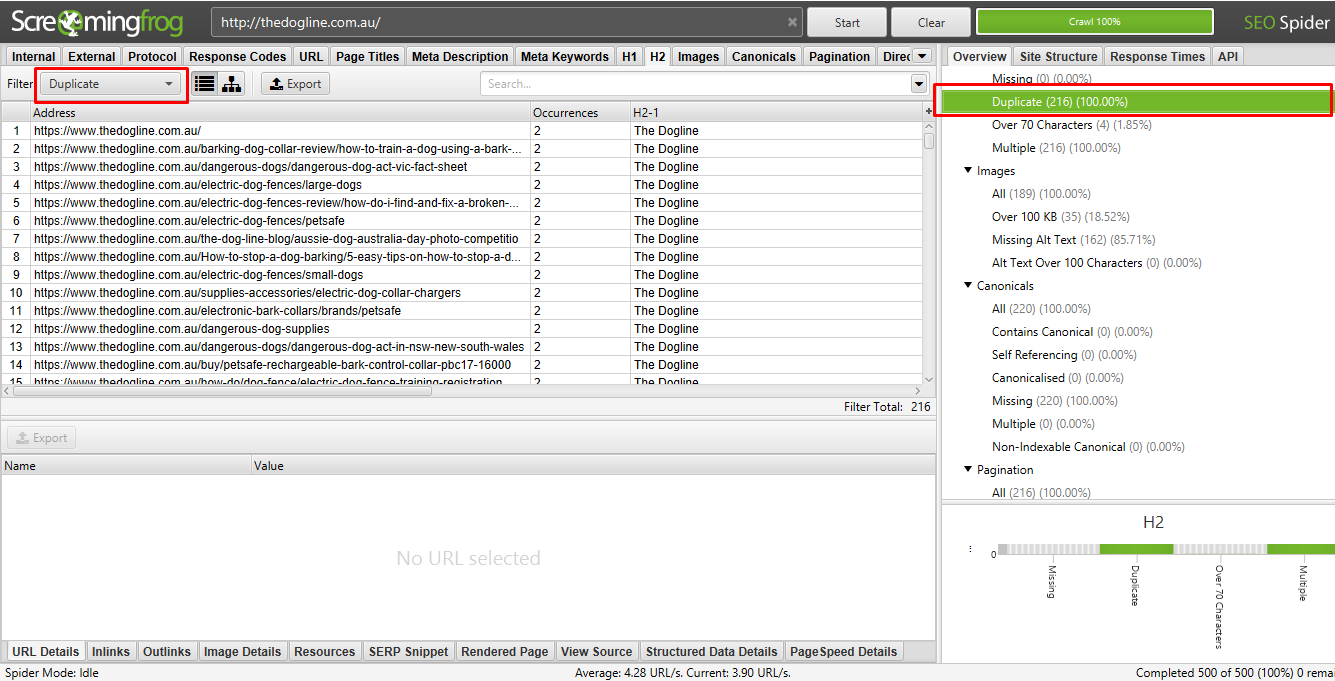 or by using Ahrefs site audit:

Using SEO audit tools such as these can definitely help you pinpoint duplicate content in your ecommerce site. Duplicated content can be found in the URL, title tags, meta descriptions, heading tags, and worse, the content body.
Sometimes though, duplicate content may be necessary, especially if both pages have gathered valuable backlinks. If this is the case, you need to have a canonical link: an HTML element that helps you specify a "preferred" version of a web page to show Google and other search engines.
A canonical link helps ensure that Google and other search engines will only index one version of duplicate web pages—the version that you want your target audience to see in the search results.
Anyway, the code looks like this:
rel=canonical
When adding it to the HTML for URL of the web page you prefer Google to index, it will look like this:
<link rel="canonical" href="https://yourdomain.com/category/subcategory/product/" />
That's it. Simple right? But if you're having a hard time doing this with several of your duplicate pages, consider getting ecommerce SEO services from the experts.
FIX KEYWORD CANNIBALIZATION ISSUES
Keyword cannibalization happens when you have numerous web pages on your online store that all try to rank for the same keyword, making your own pages compete against each other.
But isn't competing against yourself pretty great? In real life, yes. In SEO, not really! Here are some negative impacts keyword cannibalism can have on your ecommerce site:
Your web pages' authority will diminish.

Your links and anchor texts will dilute their value.

Your crawl budget—the number of times the search engines will crawl your site in a given time—will be wasted.

Google and other search engines may not see the value of the most relevant page and instead rank another page that's not conversion-worthy, thereby making your conversion rate suffer.
You don't want any of that to happen! So, here's how you find and fix keyword cannibalization issues:
First, you need to identify the web pages that may be suffering from keyword cannibalism. You can do this by creating a spreadsheet that lists all of your online shop's URLs and their target keywords. Start from the most important to the least important web pages.
For example, if you're selling pet food products, your spreadsheet may look like this:
| | |
| --- | --- |
| URLs | Main Keyword |
| www.youdomain.com/pet-food | Pet food |
| www.youdomain.com/dog-food | Dog food |
| www.youdomain.com/cat-food | Cat food |
| www.youdomain.com/dog-food-wet | Dog food wet |
| www.youdomain.com/cat-food-wet | Cat food wet |
| www.youdomain.com/pet-treats | Pet treats |
Once done listing all of your site's URLs and their main keywords, you can now start looking for duplicate entries. If you see pages with the same target keywords, especially among your core web pages, your website is highly likely to be suffering from keyword cannibalization.
Here are a few ways to fix this:
Restructure your ecommerce website

Publish new landing pages

Combine highly-similar web pages

Target new relevant keywords

Utilize 301 redirects for multiple pages ranking for the same keywords
Keyword cannibalization issues can be resolved with time, patience, and a whole lot of effort. To speed this process up, you may want to get a reliable ecommerce SEO agency to take the burden off your shoulders.
FATTEN PAGES WITH THIN CONTENT
Search engines, especially Google, prefer to rank web pages that have thick content—the page that may not necessarily have the most word count but give the most value to search users.
This is why having thin content in your web pages can ruin your ecommerce SEO efforts. Did you know that eBay lost more than 33% of organic traffic because of a thin content-related penalty when the Panda 4.0 update rolled out from Google? That's a big chunk out of the traffic they usually expect!
On the contrary, data analysis from Backlinko found that web pages with longer and more valuable content rank much better than pages with thin content. Take a look at this graph:
Image Source: Backlinko
You see, ecommerce websites tend to have more web pages with thin content than non-ecommerce sites because it is challenging to write unique and comprehensive content for multiple products that are similar.
Have you tried writing a description for a couple of backpacks and ran out of words to describe 25 other similar bags?
This is an ongoing concern for most online stores that are trying to rank better in the search results, but this should not stop you from writing at least 500 words, preferably 1,000+ words, for all of your web pages.
You can use these best practices below to guide you when writing content specifically for your product pages:
Write a unique product name along with the product's image on the page.

Write 50 to 100 introductory words in the product description.

Write the product features in a bullet form.

Write in-depth product description—add more images of the product, answer some FAQs, unpack the benefits, state some awards and cite case studies if there are any.

Write a 50-word conclusion with a compelling call-to-action.
Now, if you are not gifted at writing, you can always leverage the SEO copywriting expertise of an ecommerce SEO company, so you can beat your competitors and other big brands in the industry.
CHECK YOUR SITE'S SPEED ON DESKTOP AND MOBILE
We've discussed the importance of page speed and mobile-responsiveness. Your customers will browse your online shop from various devices—using a desktop, laptop, tablet, or mobile phone.
Did you know that 53.81% of your target customers are browsing your online shop using mobile phones? This is in comparison to 43.27% of them who use desktop computers, and 2.92% who use tablet devices.
Image Source: StatCounter
While it's important to make sure that your website is responsive to any device format, checking your site speed regularly is equally important.
Ensure that your ecommerce SEO services team performs a website speed check for each device using a reliable online speed test. One such service is Google's PageSpeed Insights.
Start with your mobile speed and get recommendations from Google itself on how to improve your site's speed on mobile devices. It will look like this: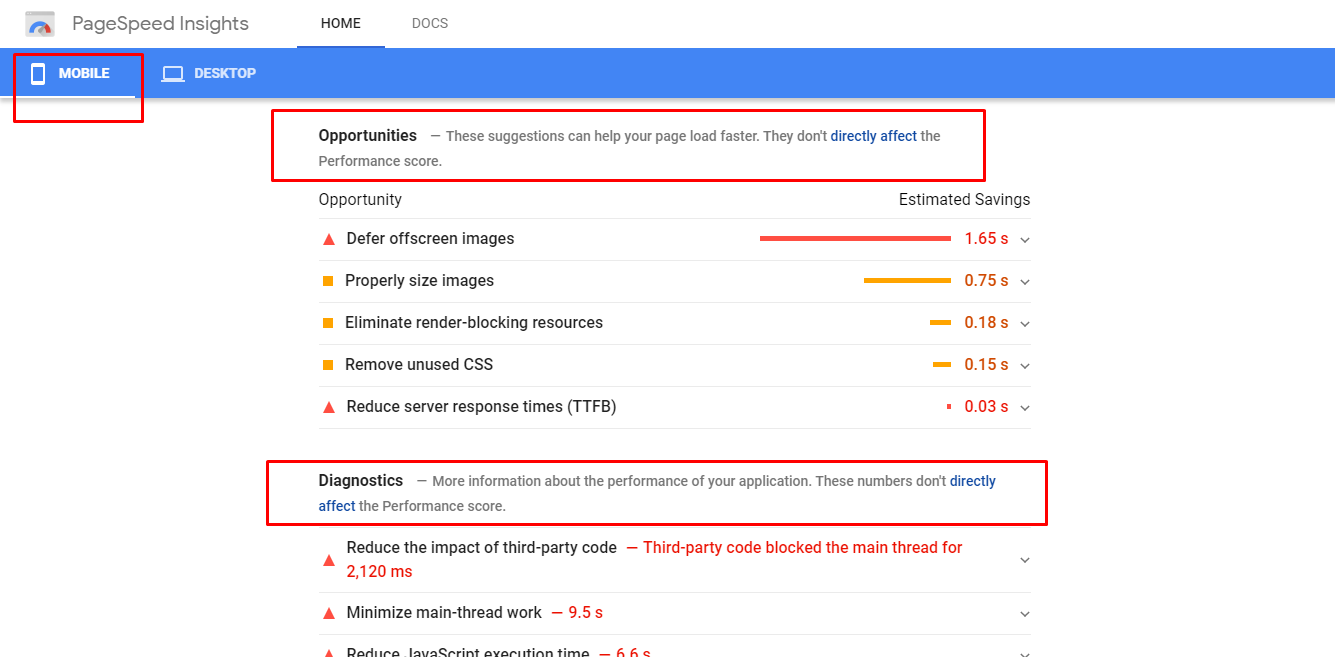 Next, manage the recommendations for your site speed on desktop devices. It will look like this: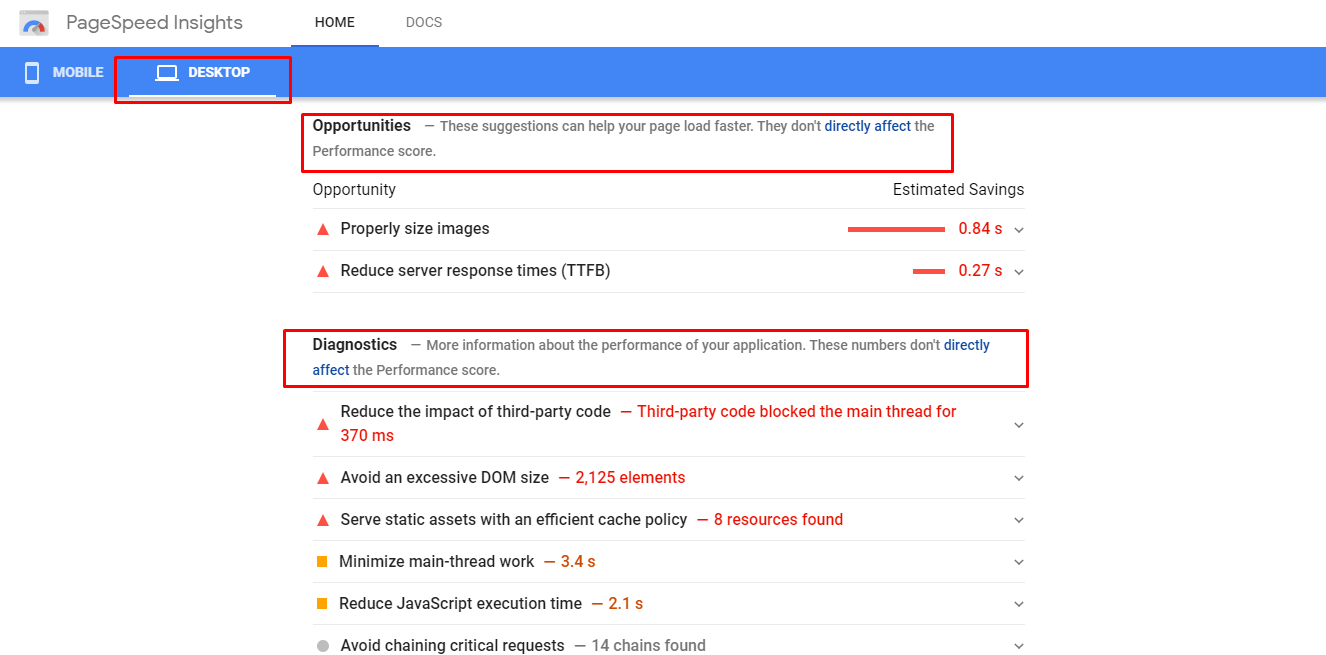 Some of these recommendations can be too technical. So, if you find them too confusing, don't hesitate to consult the ecommerce SEO experts to speed up your website.
5. BUILD YOUR BLOG AND DO SOME CONTENT MARKETING
An old cliche in SEO is "Content is king." You may have the most optimized website structure and the best keywords, but if you're not regularly producing anything valuable that keeps your clients checking back, Google won't see your content as fresh or relevant.
This is why besides creating category pages and product pages, big ecommerce websites also maintain a blog, publishing readable and useful blog posts regularly.
Take a look at this well-updated blog site of Amazon: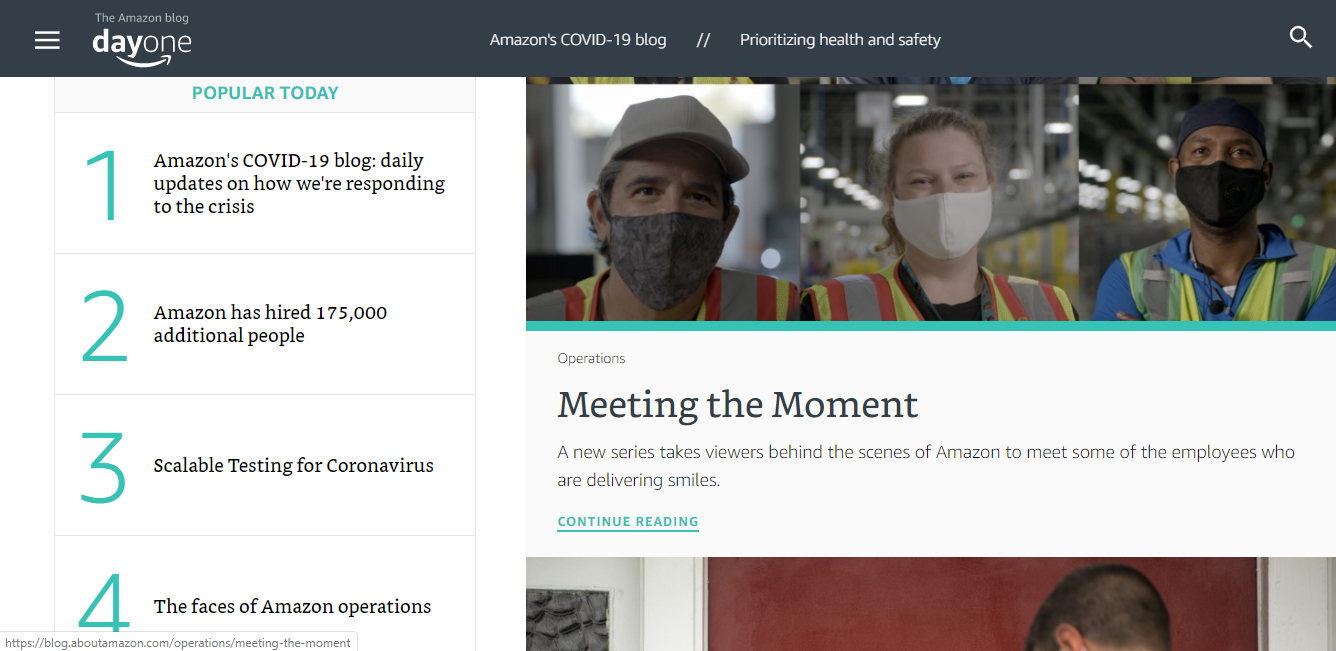 You see, blog content is not necessarily all about big blocks of texts, you should also include engaging images and videos along with your useful, informative, and compelling written words.
Also, publishing them on your website and waiting for the search engines to rank them is not enough. You must proactively let people know that you have awesome resources in your site through content marketing.
Here are some of the best practices you can emulate when building your blog and marketing your content:
FINDING WHERE YOUR CUSTOMERS HANG OUT ONLINE
Selling products to people is not enough to thrive in ecommerce. You must also learn your target market's language, what they need, what they want, and where they hang out online. In this way, you get more advantage of getting more traction than your competitors.
For instance, if your target market is a bunch of sneakerheads, consider joining this Reddit community of sneakerheads with 1.3 million members:
Or participate in good 'ole forums about shoes like this one: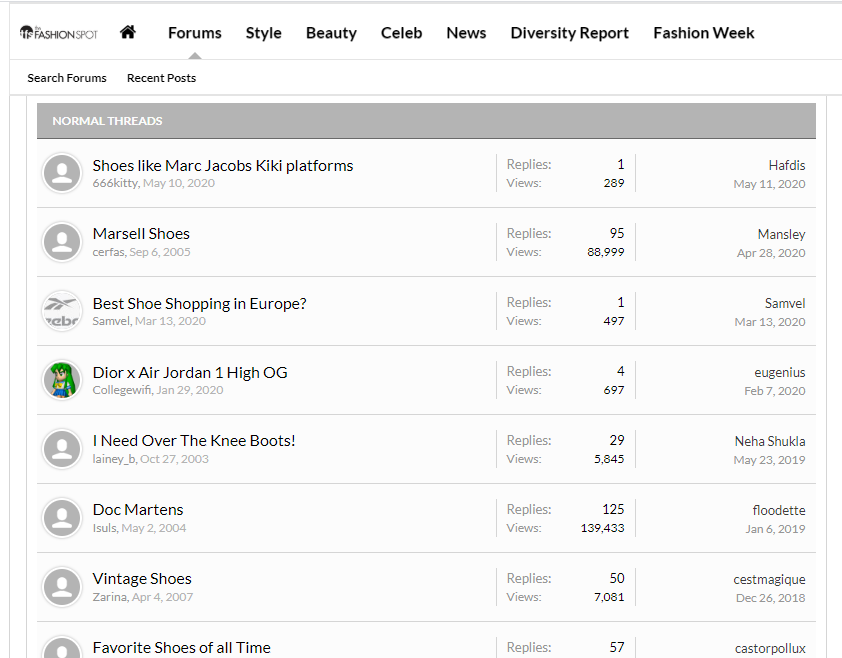 MATCH YOUR TARGET AUDIENCE'S LANGUAGE
Taking note of the words and phrases that your target market is using can prove invaluable—knowing the terms your potential customers use when describing their problems, needs, and desires will let you use the same words as your target keywords when creating your content.
Plus, the language will help you connect to your audience more personally. It will show them that you understand what they need and you have what they desire.
For example, you can eyeball the terms used by your target market in a niche-specific forum: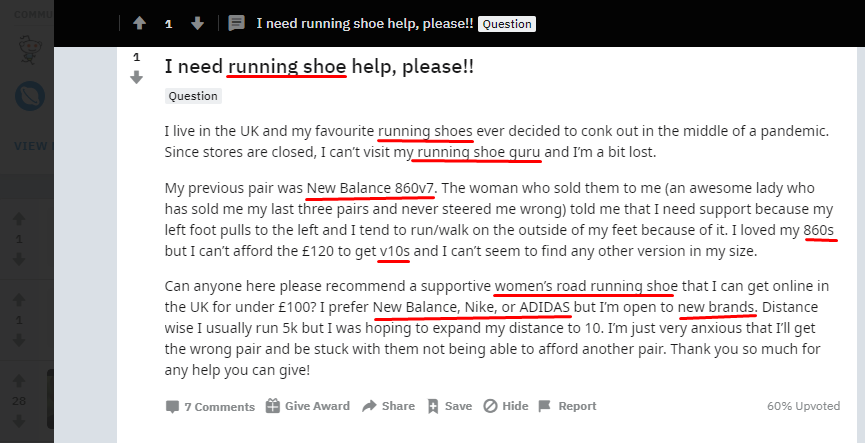 We can see that your audience refers to the product as a "running shoe". Therefore, in your online store content, you should use the words "running shoe" rather than "sneaker" or "trainer". They also specify the model of the shoe they are looking for, so you should include the model number in your content as well.
I recommend that you also check the comments when someone posts a need for one of your products—this technique will help you identify the search terms when your potential customers are still in the process of looking for a product to buy.
This is your chance to use the same keywords on your content and entice them to make a purchase from your online store.
PUBLISH HIGH-QUALITY, LINK-WORTHY BLOG POSTS REGULARLY
Top-notch content attracts high-quality backlinks and more buyers.
You see, the more you publish useful, informative, helpful, and reliable content, the more you gain visibility in the search engine results page. This leads to more people reading your posts, linking to you when they create a post of their own, sharing your content in their social media feed, and most importantly, buying from your store.
Here are the best types of blog posts to publish on your ecommerce site:
EVERGREEN CONTENT
Evergreen posts are pieces of content that are sustainable when it comes to SEO for ecommerce because they are always relevant.
Write about topics that are highly-related to your niche that your potential customers are likely to search for at any given time. For example, if you are in the shoe industry, you can write about tips on choosing a pair of shoes for different people and different activities.
You can also write about the best pair of shoes to give on Mother's Day, Father's Day, Christmas, and Graduation Day.
HOW-TO OR TUTORIALS
How-to blog posts can also be evergreen pieces of content. These posts are extremely informative and are deemed ultra-relevant to your potential buyers.
Using the shoe industry as an example, you can write about "how to measure a shoe size," or "how to clean a pair of shoes," or "how to get the stink off a pair of shoes."
This type of blog post will be best when you embed video tutorials to the post.
TRENDY POSTS
Trendy posts are the latest articles about the current situation in your industry or in the world in general.
Take the COVID-19 pandemic as an example. You can write about how to help people needing a new pair of shoes in the midst of the lockdowns, or where to get shoe cleaning supplies despite the limited supply.
BUSINESS UPDATES OR NEWS
Even though you might think that your customers don't really care about what's going on with your business, writing about business news or updates is still beneficial. This will help you establish your brand even better, especially when customers browse your blog.
In 2020, you can write about how your business is helping the community fight the pandemic and how you are taking care of your employees during these challenging times.
You can also feature your methods of ensuring that everything you do in your production is hygienic, and how you can still serve your customers despite the delays and strict processes in shipping your packages.
Now, here are a few tips to make your blog posts link-worthy and engaging:
UTILIZE THE SKYSCRAPER TECHNIQUE
This is a method intended to "beat" all other pieces of content created for the keyword that you want to target.
The technique involves studying the web articles that are already published around a search term that you are targeting. These blog posts sit on the first page of Google because they are comprehensive and bring so much value to search users.
After studying these top-ranking blog posts, you can then create an even better piece.. Follow these best practices to create the best content yet:
MAKE YOUR CONTENT MORE THOROUGH
By studying the existing top-ranking web articles in the first page of Google, you will learn how much more input you need to provide in your article.
Make sure that your content provides more value by outdoing the information that's out there with more topics that your target audience will find interesting and extremely useful.
ENSURE THAT YOUR CONTENT IS UP-TO-DATE
Some of the blog posts that currently appear on the first page of the search results are actually a few years old. Since Google prefers fresh content, this is your time to produce a high-quality blog post with references and resources updated for the current year.
You can also add new insights for the industry that your target audience will find immensely relevant and helpful.
An up-to-date content may have a title tag such as this one:

MAKE SURE THAT YOUR CONTENT IS WELL-DESIGNED
Content with better designs performs better than those with mediocre appearance. Remember that people are first attracted to visual aesthetics before they see the value that you have to offer. Hence, the phrase in ecommerce, "people buy with their eyes."
Here are some things you can do
Add an enticing blog banner

List ItemChoose high-quality images and position them strategically to break up the text

Add engaging but relevant videos, if possible

Include interactive links or buttons for your customers to click through
DO EMAIL MARKETING AND SOCIAL MEDIA MARKETING FOR YOUR CONTENT
Now that you've created the most awesome piece of content about a topic in your niche, it's time to spread the word and make sure that the right people read it.
Hopefully, your readers will help expand your content's reach to more of your target audience by sharing your top-notch post and linking to it.
Here are a few tips on doing content marketing:
GET THE WORD OUT WITH EMAIL OUTREACH
Email outreach can be a traditional content marketing effort, but it remains invaluable, especially when your emails are reaching the correct audience.
You can start by researching the websites that link to the top-ranking web articles in the first page of Google, especially the ones that are highly related to your niche.
Get in touch with the owners of these websites through email, letting them know that you have created a more thorough and up-to-date post than the ones they are currently linking to. Suggest that they may want to reference your article instead.
Keep your email short and simple, and don't forget to link your newly-published content!
LEVERAGE SOCIAL MEDIA POSTS AND CHAT SUBSCRIPTIONS
Social media networks are one of the viable online hangout places of marketers and potential customers alike. It's only fitting to also market your content in social networking sites, especially when you have created social media pages for your business and you are growing your following.
It's crucial that your blog posts have social share buttons so that your readers can share your content with their own profiles easily.
Social share buttons look like this:
And every time you have a new blog post, it's best to also share it to your social media pages to entice people to click your content, thereby bringing more backlinks and web traffic to your ecommerce site.
This is also a great way to let your followers know that you produce a substantial amount of resources for them to consume, thereby strengthening your brand.
6. BUILD YOUR LINKS—STRENGTHEN YOUR BACKLINK PROFILE
Building links to your ecommerce site's homepage, category pages, and product pages can be a bit more challenging. After all, these web pages do not really offer evergreen content or how-to tutorials.
To work around that, here are a few tips to help you strengthen the backlink profile of your ecommerce store:
DISCOVER YOUR COMPETITORS' BACKLINKS
Just like mining for keywords, your top competitor's website can also be a goldmine for backlinks! You can use a competitor link research tool like Ahrefs to know the sites linking to your competitor—websites that are highly likely to also link to your store.
Image Source: Ahrefs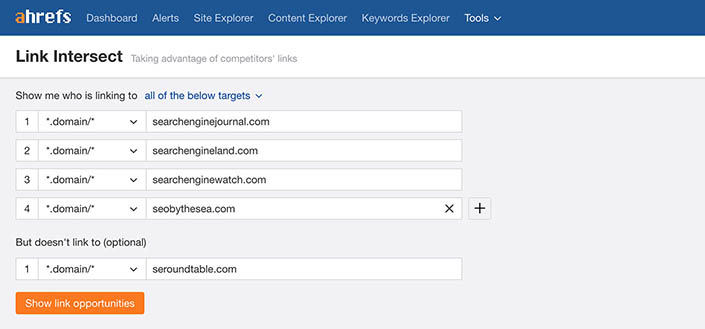 Tools like this one will help you easily discover your missed link opportunities as well as link patterns that you can follow from popular consumer forums to niche-relevant directories.
Expect that you will discover sites that are linking to several of your competitors. With any luck, it won't be hard for you to ask them to link to you, too!
Get started by submitting your business details to niche-relevant directories and do email outreach to sites linking to your competitor's blog posts.
This will be a time-consuming task overall, though, so you may want to hire an ecommerce SEO agency to do the heavy lifting for your outreach strategy.
LEVERAGE THE MANUFACTURERS' RETAILERS LIST
Product manufacturers often have "Where to Buy" pages. So, make sure that your online store appears on the list with a link to your homepage.
You can check the manufacturers' retailer list using Google search—follow this search format:
manufacturer's name of products you sell + intitle:"where to buy" OR intitle:"stockists"
Let's say, for example, you have an online shop for dog training collars: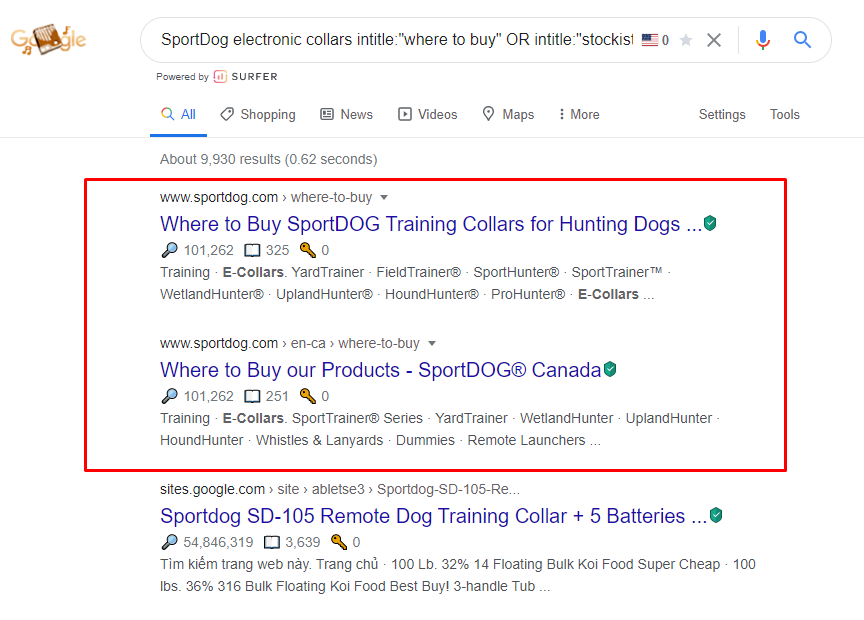 Once you find these web pages, reach out to the web owner, and request to be added if you are not yet included in the list.
SEARCH FOR RESOURCE PAGES AROUND YOUR NICHE
Resource pages are web articles that list useful links and resources for a certain topic or niche. Just like finding a manufacturer's retailer list, you can find resource web pages using Google search. Here are the keywords that you can use:
Your target keyword + inurl:resources

Your target keyword + inurl:links

List ItemYour target keyword + intitle:resources

Your target keyword + intitle:links
Here's an example:
Once you find the web pages that list resources or links for your niche, especially the ones that are not your competitors (non-ecommerce sites), reach out immediately and ask to be listed.
FIND BROKEN LINKS AND FIX THEM WITH YOUR CONTENT
Broken links are links pointing to expired, moved, or outdated pieces of content. Fixing these broken links is one of the most effective strategies in SEO for ecommerce. This gives you a chance to network and gain more traction for your online store, especially from potential customers that don't know your brand exists.
You can start finding broken links from the websites that link to your competitors. Then, check niche-related resource pages for any broken links that you can replace with your more thorough and up-to-date content.
Once you have a list of these websites, you can use a tool like HREF Check My Links to run a test. This tool highlights broken links in red so you can spot them easily, like this: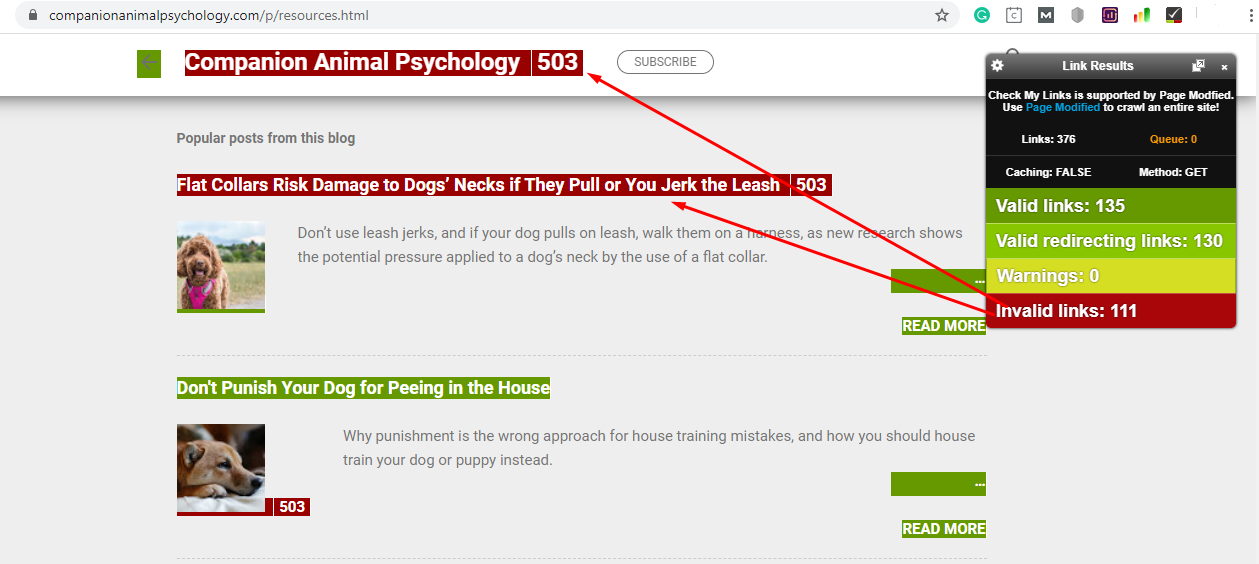 After identifying the broken links that exist on their web page, reach out to them via email, and pitch your content that they can use as an even better replacement.
CREATE SOCIAL MEDIA PAGES FOR YOUR BUSINESS
Did you know that 54% of consumers use social media to research products?
Also, 71% of buyers who have a pleasant experience with a business on social media are more likely to recommend that business to their family members and friends.
And a huge chunk of your target market—90.4% of Millennials, 77.5% of Gen X, and 48.2% of Baby Boomers—spend an average of 3 hours daily on social media sites.
Therefore, social media pages for your business are a must, especially if you want to reach more of your target market, engage with your potential customers, and gain more backlinks, clicks, and web traffic by posting your blog posts and landing pages in your social media pages for your audience to consume.
Here are the top social media platforms that you should consider:
FACEBOOK (WITH 60.15% OF MARKET SHARE WORLDWIDE)

TWITTER (WITH 15.48% OF MARKET SHARE WORLDWIDE)

PINTEREST (WITH 10.46% OF MARKET SHARE WORLDWIDE)

INSTAGRAM (WITH 8.73% OF MARKET SHARE WORLDWIDE)

YOUTUBE (WITH 4.2% OF MARKET SHARE WORLDWIDE)

TUMBLR (WITH 0.36% OF MARKET SHARE WORLDWIDE)
Image Source: StatCounter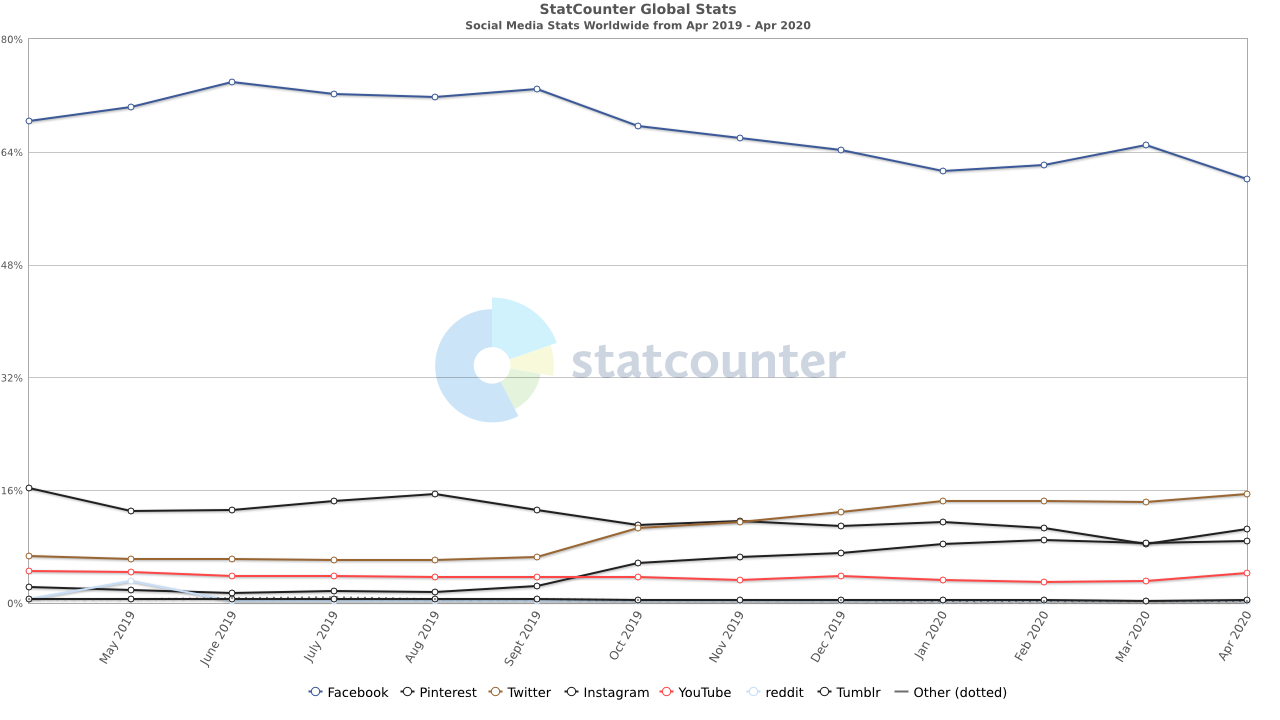 Social media for businesses is a whole different beast to tame than SEO, however. To save time and energy, check with your ecommerce SEO company if they can also offer you a social media management service.
CONSIDER PARTNERING WITH INFLUENCERS AND OTHER AFFILIATES
Did you know that 49% of your potential customers depend on the recommendations of social media influencers when choosing products to buy? This is why partnering with an influencer is one of the things that you should consider when building your network, raising your brand awareness, and gaining more backlinks from influencer blogs.
Reach out to influencers by offering a few of your products for free in exchange for a truthful review. Also, consider granting them an affiliate link from their website to your store.
You can then observe how much web traffic and conversions you get from an influencer, and seek a long-term business relationship with him or her.
7. DO LOCAL SEO FOR ONLINE SHOPS WITH PHYSICAL STORES
This ecommerce SEO step is not applicable to every online business, but if you have a physical store, especially in several locations, local SEO can boost your visibility and rankings in the search results.
So, if you have an actual location that your customers can visit to buy from (or pick up products, in light of the pandemic restrictions), here's how you do local SEO:
OPTIMIZE YOUR GOOGLE MY BUSINESS PROFILE
This is a cool feature that allows you to place your business details in Google's database, so your business will appear in local search.
Anyone Googling your business in your vicinity will see important details, such as your local address, your business operating hours, some images, customer reviews, and a lot more.
It looks like this:
If you are not so confident with optimizing your Google My Business profile, don't hesitate to tap your ecommerce SEO expert team to help you out.
SUBMIT YOUR NAP TO LOCAL DIRECTORIES
NAP stands for your business Name, Address, and Phone number—essential information that your potential customers need when searching locally.
Now, to ensure that you get more visibility in local search, build your links with local citations. These are backlinks from local websites that feature your city, state, or country, especially the businesses under your niche.
Generally, links from local citations include claiming your free business listing from local directories such as Yellow Pages, but they can also come from local websites, such as media and news outlets, press releases, and online magazines.
8. MEASURE YOUR SEO SUCCESS
SEO for ecommerce requires tracking your efforts. Knowing your numbers allows you to identify and maintain your KPIs as well as work on things that need improvement.
Now, remember that unlike a paid advertisement, SEO aims for organic traffic and conversion, so the results take longer. You can't expect to calculate the ROI after a day or two.
So, here's how you measure the success of your ecommerce search engine optimization after some time:
TRACK YOUR SEARCH RANKINGS
Use a search ranking tool like Ahrefs. You can choose to get notified when your rankings are decreasing or increasing.
Also, the tool lets you compare your SEO progress with your neck-to-neck competitor and it allows you to see your overall search visibility.
Image Source: Ahrefs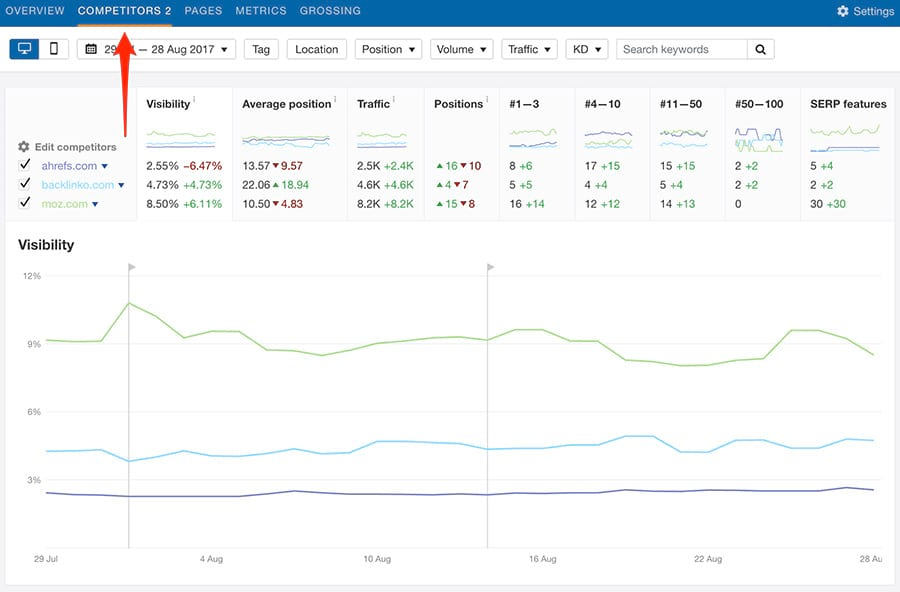 Now, when tracking your rankings, look for a general increase for your main keywords over time. You can do these on a week to month basis.
TRACK YOUR WEB TRAFFIC AND SITE ENGAGEMENT DATA
You can use Google Analytics to measure your organic web traffic and site engagement metrics—to see if people are actually visiting your ecommerce website and consuming your content.
Also, if you find Ahrefs to be too costly, you can use this free SEO dashboard to your Google Analytics account.
Image Source: Webris
Together, these tools will let you see an increase in search traffic, and allow you to access the landing pages that your web traffic is reaching. Then, you can use the information to identify which search terms your ecommerce site is ranking well.
Now, to see where you are ranking in the search results, make a Google search using your target keywords. Use an incognito search so that Google will not refer to your personal search history and actually show you where your online shop is ranking in the search results.
Once you find your rankings, take note of them so that you can track the positions of your web pages in the search results.
Remember that you are looking for slight increases over time (this is more realistic than jumping to #1 overnight!). So if you notice that after a few weeks,your ranking jumped from page 3 to page 1, that's a huge sign that you are doing your SEO for ecommerce right!
Gutentor A Which Ecommerce Platform is Best for SEO?
This comprehensive study on choosing the best ecommerce platform for SEO used 14 crucial factors that help ecommerce sites rank well in the search engine results pages. These are the following:
Independent navigation links

Independent page titles

Independent page urls

Independent meta descriptions

Independent image alt tags

Independent H1 headings

Canonical URLs

Integrated blogging platform

Social sharing buttons

Auto XML sitemap

Use of own domain name

Your own IP address

301 redirects

Robots noindex capabilities
The study found out that Shopify is the ecommerce platform that is best for SEO, garnering the highest SEO score of 98.
TOP 10 ECOMMERCE SITES
This ranking is based on the in-depth analysis of ecommerce platforms against 14 crucial SEO factors mentioned above:
HOW DO I OPTIMIZE SEO ON SHOPIFY?
Follow the best practices and steps that are all laid out in this ultimate guide and come back to this article anytime to learn more about SEO for ecommerce.
Better yet, consult an ecommerce SEO company that has extensive knowledge and experience when optimizing Shopify stores.
HOW CAN I IMPROVE MY WEBSITE SEO WHEN I'M ALREADY DOING EVERYTHING (OR SO I THINK)?
Our years of working with several online stores have helped us understand the fundamentals of improving SEO for ecommerce. One such pillar is enlisting dedicated SEO services from the experts.
Maybe you have an in-house "SEO team" but you still see little to no progress at all. If you know that you are not at the top of your SEO game despite doing every nitty-gritty and time-consuming task, you're still getting outranked by your competitors. You'll see a constant decrease in CTR, web traffic, and conversion, which could hurt your business overall.
If that's the case, it's time to talk to the ecommerce SEO experts so that they can improve your website SEO while you save more time, energy, and money in the long run.
This is a pretty dense read on SEO for ecommerce. The most important things to remember are listed below to help you succeed in your search engine optimization efforts and grow your online store!
Here we go:
Ecommerce SEO is a multi-faceted method of boosting your online shop's ranking, increasing its click-through rate, driving web traffic (and foot traffic if you have a physical store), and improving your store's conversion.

Doing SEO for ecommerce includes strategic keyword research, planning your site architecture, performing on-page optimization on every web page, taking care of your site's technical SEO, building your blog and marketing your content, link building, and measuring all optimization efforts with the right tools.

The best ecommerce platform for SEO is Shopify.

The top 10 leading ecommerce sites according to the in-depth ecommerce platform analysis are the following (in order): Shopify, WooCommerce, 3DCart, Magento, BigCommerce, SquareSpace, Volusion, Weebly, Wix, and GoDaddy.

If you want to improve your SEO—whether it's for a Shopify store or any other platform, get the best ecommerce SEO services from the experts whose main goal is not just to improve your site's ranking but also to increase your store's conversion.