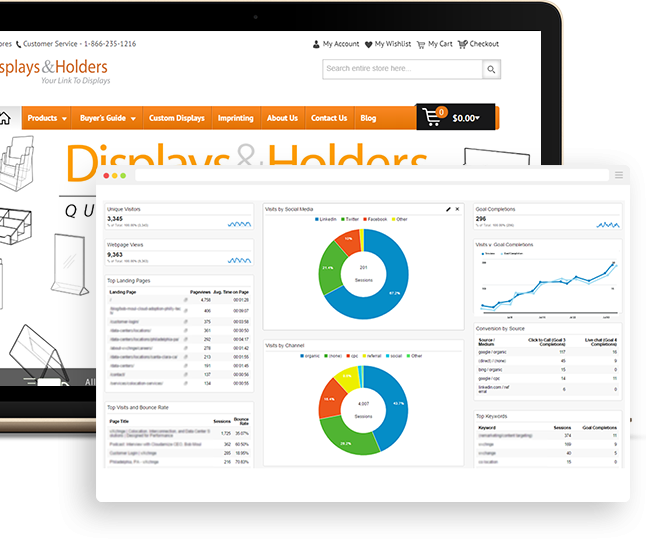 What is Search Engine Optimization?

Search Engine Optimization (widely known as SEO) involves optimizing the content and structural design of your website. When performed properly, SEO enhances your site's visibility on search engine result pages when someone searches for a particular keyword or phrase. The objective is to generate an attractive return on investment for your business caused by a higher number of qualified visitors to your web site.
SEO is an Ongoing Management Process

The SEO process is not a one-time exercise. Achieving competitive and high rankings on major search engines requires consistent execution using innovative and meticulous strategies to beat your competitors. If your SEO initiatives stop at some point, your competition will catch up sooner or later. It's a constant battle to achieve top rankings, and other businesses will fight to get ahead of you (even if you've already surpassed them in your efforts). Always remember that while it's difficult to reach the top, it is even more difficult to remain there.
Decoding Bliss Drive's SEO Services

Google keeps detailed records of the keywords and phrases entered by searchers, as well as the content the read. While natural and unique content is likely to generate interest among target viewers, an extremely focused and compelling content piece relevant to your marketing message, business focus, and popular search terms will produce even higher interest, resulting in better rankings for your site. This is what Bliss Drive works at while developing content for your website and optimizing it to reach your target market.
First, we make a detailed study of your business operations, products and services offered. Then we work to improve and expand the content on your site, making it highly relevant to search terms being used by users who are seeking products and information related to your specific business.
Begin with the 1st Step: Discovery
See how your
website

looks in eyes of

Google


and how you stack up against your competition
OUR CLIENTS' 
SUCCESS STORIES
New and established brands across the United States have
turned to Bliss Drive to deliver powerful results like these:
"We used to get 5 leads a
month, now we get
over 10 per day!"
Increase in leads
in 5 month

"We used to get about 4
orders a day, now we get
20-30 per day."
Increase in online sales
in 12 months

"Our lead volume and
website traffic is
way up this year!"
Increase in organic traffic
in just 5 month
"Our sales guys couldn't
handle all the leads
that were coming in."
Ranking achieved for 12 high
purchase intent keywords

We help businesses generate More Sales and Better Leads from their online assets. Learn these 5 important things before hiring a SEO company for your business.
Do they have conversion in mind? If not, FORGET IT!
SEO strategies and technologies have advanced substantially in recent years. Is the agency up to speed?
Does they have proven track record, and have you seen it?
Your SEO company should also act as your webmaster… Responsive and with solid support.
Does the SEO company provide value to your website? Check their references (reviews, testimonials, etc.).
SEO Services: Formulating a Strategy for Exponential Growth
The SEO industry has been in full swing since businesses first realized they could capitalize on their website traffic to encourage growth. By 2020, businesses in the United States are expected to spend $80 billion on search engine optimization alone.
While it's positive that businesses are taking SEO seriously, most businesses aren't seeing the results they want from the companies they're hiring to do the work. That's because most agencies take a cookie-cutter approach to their SEO services, offering the same SEO packages to all their clients. Instead of learning about the companies that hire them, they go through the same motions they do with their other clients and collect on their services.
What's worse, many SEO agencies are still using old tactics that search engines adapted to a long time ago. Keyword stuffing, thin content, comment spamming, and content cloaking are all black hat techniques that haven't worked in years. And yet, plenty of SEO agencies still swear by them and sell them as services.
It's tempting for businesses to pay for these services for one reason: They're cheap. 
By doing what amounts to an hour or two of busy-work every day, SEO companies can tick the SEO box on your marketing checklist and make a profit while doing it. Unfortunately, these types of "services" don't work — they haven't for a long time — and they won't bring you results.
Instead, your SEO strategy should consist of a holistic strategy that drives results.
Are you ready to finally understand how SEO works so you can leverage it for your business? We have years of experience working in the SEO industry. Sign up for our SEO training course today!
Our 7 Steps to SEO Success
SEO isn't an a la carte endeavor. You can't fill in some meta information and expect to rank #1 on Google. Instead, it requires multiple strategies working in concert to fulfill your high-level goals, which usually pertain to the most important part of your business: making money.
Unlike what some agencies will tell you, there are no SEO "tricks." You can't game the system. Instead, you can work with your agency to lay out a strategy, incorporating integral SEO services along the way. 
We've laid out a 7-step plan for providing our own SEO services:
During the discovery stage, your SEO agency will work with you to identify and develop your high-level company coals. Often, companies will approach an SEO company with a specific problem. Getting more traffic on their website is a common one, as is getting more leads.
But high-level goals should be affixed to the core objectives of your business. Web traffic is great, but you need to get more sales if you want to grow. Getting your website up to speed with on-page SEO is important, but you won't rank if you don't have backlinks from authoritative sources. 
Once your SEO partner understands your goals, they'll do an analysis of your current assets, such as your website, your content, your landing pages, and your analytical tools. With all this information, they can begin to recommend services and formulate a plan of attack.
Unlike goal-setting, your strategy will relate to specific SEO targets. In other words, your strategy will be a roadmap for what, exactly, your agency will do. 
There are two types of SEO targets you need to focus on. They are long-term targets and short-term targets
Short-term SEO targets are typically what you'd call "low-hanging fruit." They don't take much time to execute, but they can help you get quick results from your SEO investment. Often, short-term targets involve fixing errors on your site and doing on-page work, such as:
Running an SEO audit

Installing SEO tools 

Finding broken links and replacing them or redirecting them

Filling SEO attributes (meta descriptions, alt-tags, etc.)

Submitting your sitemap to Google

Editing and Proofreading content

Compressing images

Optimizing your website for mobile viewing
All of these tasks are SEO services, but they're just a start. Unfortunately, many SEO companies end with these tasks or they simply repeat them month after month. If that's the case, then you're missing out on your long-term targets.
Long-term SEO targets take longer to execute, but they are the key drivers of your results. SEO is not a one-time effort, but an ongoing process. If you lapse in your management of SEO, your competitors can reclaim the rankings you've gained and get ahead of you.
Long-term targets take legwork. They require you to do work behind the scenes, such as building relationships with other website owners and creating content on a schedule. Common long-term SEO targets include:
Obtaining backlinks from reputable websites

Optimizing your website based on a keyword strategy

Executing a long-term content strategy (including multiple forms of content)

Executing a long-term social media strategy

Redesigning your website (if necessary)

Listing your website in relevant business directories
Depending on your SEO audit, you and your partner may identify other SEO targets that need your attention. Once all targets are identified, you'll be able to build a timeline for how your SEO tasks should unfold.
Step 3: Benchmarking & Goal-Setting
Benchmarking is a process of comparing your own performance metrics to those of others in your industry. Your strategy may dictate which SEO tasks you need, but your benchmarking session should help you identify your goals.
For example, if your competitors are ranking #1 for a search term you want, you could set a goal for yourself to beat them in rankings. You can set short-term and long-term goals based on your investment and your needs.
The key to benchmarking successfully is in your analytics. If you don't have compressive analytics already, your SEO partner can help you access the tools you need during your SEO audit.
Step 4: Website Design & Optimization
It's common for businesses to approach an SEO company for help with their rankings only to discover that their website needs a serious cleanup. 
If you outsource your web development, you can't always expect your developer to build your website with SEO in mind. They may build you a great website and deliver it on time, but just because it looks great, that doesn't mean it's optimized.
Thankfully, most of the best SEO companies also act as SEO web design companies — they can help with website optimization.
The purpose of website optimization is to make it easy for search engine bots to crawl your website and understand it, as well as to cater to the needs of today's internet users. There are a few factors that contribute to this.
For one, you need to optimize all your on-page SEO elements, such as the following:
SEO title

H1 tag

Meta description

Robots.txt

URL

Image alt tags
This is manual work that your SEO agency can take care of. However, it's most effective when done alongside a documented keyword strategy.
Thanks to recent updates to Google's algorithms, page load times are also an important factor in search. If image files on your pages are too large, or if there is an abundance of useless code in the backend of your site, this can slow you down and hurt your rankings.
Ahrefs, one of the most recognized companies in the SEO business, did a study back in 2016. They discovered that the number one Google position for popular keywords is almost always taken by web pages with fast load times:
(Source: ahrefs)
Mobile-friendliness is another factor that can contribute to your search rankings. One of Google's most recent updates has changed their algorithms to favor sites that are mobile-friendly. It's been referred to as the "mobile-first" update, which means the search engine crawls and ranks only the mobile versions of websites, not the desktop versions. 
Since mobile accounts for over 52% of all web traffic worldwide, you can no longer afford to go without a mobile-friendly site. Luckily, updating your site for mobile search is an SEO service offered by most of the best SEO agencies.
Step 5: Content Development
Content development should be a central part of your long-term SEO strategy. 72% of marketers say relevant content creation is the single most effective SEO tactic, and improvements in content marketing have been known to increase blog traffic by as much as 2,000%, in some cases.
As a service, your SEO agency should offer content in multiple forms, such as blog posts and web pages, to help you rank better in search. Without content, your other SEO efforts are severely diminished. 
For example, if you've done extensive keyword research, you already know which long-tail keywords and which shorter, more competitive keywords you want to rank for. If you don't have pages that are optimized for those keywords published on your website, you'll have no way to rank for them.
You'll need to create relevant content consistently, and in multiple formats, such as:
Blog posts

Landing pages

Web pages

How-to guides

Longform content

Case studies

Press releases

eBooks

Infographics

Checklists

Videos
Beyond the technicalities of keyword usage and SEO, the most important aspects of your content strategy should be relevancy and value. Content that entertains, informs someone about something they didn't already know, or adds something new to a conversation is content that gets shared, liked, and linked to.
Step 6: Authority Building
Building authority is perhaps the most essential, and most often overlooked, SEO service you can hire an agency for. While most agencies are happy doing on-page SEO work and pumping out short, meaningless content, few take the time to build your domain authority through backlinking. 
Not all backlinking strategies are created equal. Black-hat SEO tactics like comment spamming are still relatively common, but they don't work. Because of how advanced search engines have become, these tactics will actually hurt your website.
Like all good things, successful backlinking takes hard work. The best backlinks are those that you form organically by publishing quality content people want to link to. However, your agency can also provide you with backlinks as a service by guest posting on reputable blog sites, getting your website listed in directories, obtaining links from companies you have partnerships with, and other tactics.
Beyond backlinks, your domain authority (DA) is based on factors like:
Trust (the kind you can't measure with analytics)

Shares and signals on social media

User experience (UX)

Page loading times

Website structure

Domain age

The domain authority and actions of other websites
Some of these factors, like the age of your domain and the actions of other websites, are outside of your control. But factors like your backlinking profile and your social media presence are things you can get help with from an agency.
Step 7: Review and Reporting
Finally, reporting and analytics should be a part of your strategy from the start. In order to measure the ROI of your SEO investment, you need to be able to see the effects in action. Typically, you'll be able to see results in your metrics before you start seeing the results in your bank account.
If you don't already have analytics, you can partner with an agency to identify the best tools for your business. Some tools, such as Google Analytics, are no-brainers. Google Analytics provides you with a bird's eye view of what's happening on your website.
You can even track how visitors enter and exit your website, and from what locations they're accessing it:
(Source: Search Engine Land)
This type of information is helpful if you're a business that sells locally, or if you intend to target local markets. For example, if a business located in New Jersey is tried to sell to customers in California and they see the above map in Google Analytics, they'll know they're doing something right. They're getting significant traffic from The Golden State.
With reporting tools in place, you'll be able to monitor the effects of your SEO investment over time. The right SEO partner will provide you with regular reports on traffic, rankings, leads, customers, and sales.
Want to learn how to get quality backlinks, build great content, and master on-page SEO? We've got the tools and experience to help you succeed. Sign up for our SEO training course today!
SEO Services Should Deliver Tangible Results
Search engine optimization is a long-term strategy that can take time to bear fruit, but you should always be able to calculate exactly what you're getting for your investment. 
With paid search, you can correlate the amount you spend to the amount of traffic, leads, and revenue you bring in. The same should be true of the SEO services you pay for. The best SEO firms will be able to tell you exactly what your investment is bringing you in terms of leads, customers, and ROI.
Here are just a few of the tangible benefits professional SEO services should allow you to achieve:
Boost Conversions
The most common metrics measured by SEO companies are traffic and your rankings for high-purchase keywords. These are important indicators of the success of your SEO effort. After all, getting high rankings in search results is probably the reason you chose to invest in SEO in the first place.
But traffic alone won't help your bottom line. A more important metric to keep tabs on is your conversion rate — specifically, you need to understand the conversion rates of those pages that rank high in search results. These could be landing pages, pages full of content, or even the core pages of your website.
Your conversion rate is the percentage of visitors to your page that "convert." Most companies have their own definition of what "conversion" is, but it typically refers to an actual sale, or the transformation of a visitor into a lead, prospect, etc.
Essentially, a conversion occurs when a visitor takes an action on your site instead of just browsing.
To calculate your conversion rate for a specific page, simply use this formula:
Conversion rate = (Conversions/Page visitors)
So, if your web page gets 100 visitors and 5 of them convert, you have a conversion rate of 5%.
A high conversion rate is indicative of these factors:
Your web page is optimized for conversions

You've promoted your web page through the right channels

Your web page is attracting

relevant audiences
If your visitors are converting, that means your page has met their expectations — it's exactly the type of thing they were looking for and they found it compelling enough to take an action.
An SEO agency can provide you with conversion rate optimization services to help you reach the right audiences and convert them on the spot. They'll do this by posting content that's relevant to your buyer personas and designing your web pages to encourage conversions.
Drive More Traffic
In addition to optimizing your website for conversions, your SEO services should significantly increase your website traffic — with the right agency, exponentially so. However, not all website traffic is the same, depending on the source of that traffic.
You can break them down to a more granular level if you like, but there are essentially four types of website traffic:
Direct traffic

Referral traffic

Paid traffic

Organic traffic
Direct traffic refers to when a person intentionally inputs your website's URL into their browser. If you provide a service through your website, such as a cloud-based tool, you'll likely have a high level of direct traffic because your customers must go to your website to log in.
Referral traffic refers to traffic from other websites. If another website has a backlink to one of your web pages and someone follows it, this is considered a referral. Traffic is just one of the benefits of these types of backlinks. They also provide a technical benefit by telling search engines that your site is authoritative and people like it.
Paid traffic is traffic gained by paid search results and other forms of digital advertising. Many businesses make the mistake of devoting most of their digital marketing spend to paid traffic. While paying for ads can give you a short boost, this isn't a long-term strategy (unless you have very deep pockets).
Organic traffic refers to when someone finds your website through an internet search. This is the most sought-after form of web traffic because it generates the most significant ROI. A boost in organic traffic is also one of the most recognizable indicators of a successful SEO strategy. 
By creating valuable content and ranking your pages in relevant results, you can bring in more relevant users to convert on your webpages.
To make the ROI of organic traffic clearer, consider this: 51% of all website traffic comes from organic search, 40% of online revenue is captured by organic traffic, and 32.5% of traffic goes to the first Google organic search result.
Lower Bounce Rates
Your bounce rate refers to the number of visitors who come to your website, then navigate away after only viewing one page. If you have a high bounce rate, it could indicate one problem or many different problems.
For example, if some of your landing pages are ranking for search terms that aren't relevant to your target buyers, you'll probably receive a high bounce rate for those pages. The people finding your landing pages have no reason to buy, so they leave the page.
Of course, a high bounce rate could also indicate that you're turning away relevant traffic. If an interested buyer finds your website and discovers that it isn't user-friendly, that it loads too slowly, or that what they were looking for isn't easy to find, they'll likely navigate away.
If you buy SEO services like website optimization, you should use this metric to measure your progress, at least in part. With the right investment, your bounce rate should drop substantially. 
Develop Lasting Authority
Once you gain domain authority, it's easy to sit back and assume you've made the grade. But authority fluctuates as frequently as the content landscape on the internet. What was relevant one month may not be relevant the next.
Websites that have a high level of domain authority provide a lot of value to their visitors. They're also updated frequently with helpful content, and they usually have history. Take Forbes, for example. Here's their domain authority (DA) ranking out of based on a ranking system of 1 to 100:
(Source: Search Engine Reports)
To maintain your rankings on Google and the authority of your website, you need to stay active. That means posting new content frequently, updating old content so it's relevant, repurposing extraneous content, and staying on top of your SEO.
With the right help, you can obtain the authority you've always wanted and keep it. With the right investment, you can even beat the giants in your industry.
Bring in More Revenue
Finally, the most tangible benefit you should see from your SEO services is more business. If you aren't seeing an uptick in revenue, then your SEO services aren't much of an investment.
But keep in mind, you'll need to be patient. Executing an SEO strategy is like running a locomotive: It takes time to get rolling, but once you're flying down the tracks, the results are obvious.
You can get plenty of quick wins at the beginning of your SEO strategy, too. Consider setting revenue goals with your partner based on your budget and the services they recommend. 
Calculating the ROI of your SEO investment isn't as straightforward as calculating the ROI of your ad spend. There isn't always a direct correlation between the SEO services you pay for and your revenue. Often, there are a few other metrics that are directly influenced by SEO, such as your web traffic, your conversion rates, and your domain authority.
To calculate your ROI, you'll need to determine how much revenue you've earned from those specific metrics, then calculate how your SEO investment affected them. 
For example, let's say you spend $1000 on SEO services and see a traffic increase of 100 visitors. If just five of those visitors become customers, but they spend $5000 total, you can do a basic calculation to determine your ROI:
ROI = (Value of investment – Cost of investment)
Therefore:
If the value is 5000 and the investment was 1000, then ROI is 4,000 (or 400%)

Get the SEO Services You Need for Lasting Success
SEO is a lot like investing in the stock market. Rates can fluctuate based on what's happening in the business landscape. And just like investing in the stock market, there are best practices that work and misleading schemes that don't.
Your SEO services shouldn't come in a package. Instead, they should be tailor-fit to your goals, your budget, and the current state of your digital assets.
Contact Bliss Drive today to learn how our SEO services can help you succeed. 
If you want to learn more about what professional SEO tactics you can do on your own, don't hesitate to sign up for one of our SEO courses!
Have you ever been the victim of black hat SEO services? What other SEO services do you think agencies should offer? Let us know in the comments below and we'll respond!
Take Action Today to Secure New Leads, Customers
and Growth for Your Business

SCHEDULE A CALL
Speak to one of our marketing experts with a minimum of 5+ years of experience. Let's see if we'd be a good strategic fit to help you grow your business.
GET YOUR PLAN
We deliver a custom-tailored plan to suit your business. Then we begin working to surpass the growth goals that have been set for your leads and sales targets.

WIN ONLINE
Your new winning strategy will help you leave your competitors behind in the dust. We'll give you the jet fuel and the fine tuning you require to finish in 1st place!
You'll receive outstanding service and support from a team of real SEO experts to grow your business!
RESPONSIVENESS YOU CAN COUNT ON
We run on high octane fuel. This means quick service and prompt support that you can always rely upon.
Over 50+ Years of combined experience
Trust the industry experts to deliver results that will help you beat your competitors. Experience pays dividends!

Stress free delivery of work and Projects
We understand you're busy. This is why we provide a service where we do all the heavy lifting.

POSITIVE ROI is the Top Priority
Internet marketing is a real investment, and should earn you money. Let us help grow your bank account.
INTERESTED IN GROWING YOUR TRAFFIC, LEADS, AND SALES?
Fill out the form below and we'll provide a free consultation to help you map the roadway to success. No pressure, no hassle - guaranteed.

Questions? Call us today!